Theologos "Theo" Petridis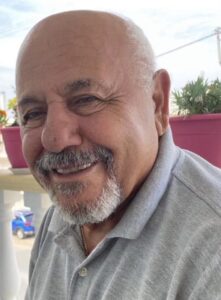 Theologos "Theo" Petridis, 78 of Bethlehem passed away in Trinity, Florida on February 27, 2023.  He was the husband of the  Maria (Kealar) Petridis for  51 years until her passing on September 24, 2021.  Theo was born in Kalos Agros, Drama, Greece on August 14, 1944 son of the late Iordanis and Martha (Erezoglou) Petridis.
Theo came  to the United States in 1978 and settled in Bethlehem where he worked for various Lehigh Valley Restaurants.  In 1980 he and his wife Maria opened his first Theos Gyros on Broad Street in Bethlehem.  He also had a Theo Gyros Stand at Musikfest  every year since 1983  and  another location at the Quakertown Farmers Market for 34 years.
Theo and Maria enjoyed traveling to Greece, Turkey, cruising the world  and loved the sunshine of sunny  Florida where they also had a home.
He a faithful member of Annunciation Greek Orthodox Church in Easton.
Survivors:  Sons Haralambros (Harry) Petridis of Columbus, Ohio, Iordanis (Donny) Petridis of Bethlehem and Savvas (Kevin) Petridis of Bethlehem, daughter Martha Mihalopoulos wife of Dennis of Nazareth, 13 grandchildren  Georgia, Theo, Maria, Theo, Yianni, Athena, Vasilios, Efstathia (Christos), George, Maria, Theo, Eleni and Alexandros;  brothers Stavros Petrohegias of  Greece and Dimitios Petridis of Bethlehem; sisters Maria Karakechagia, Despina  Toumanidou  and Elpeda Nikolaidou  all of Greece.  Predeceased by brothers Christos Petridis and Yannis Petridis.
Viewing & Service: Tuesday March 7, 2023, viewing 10AM to 11AM followed by the Funeral Service at 11 AM all at the Annunciation Greek Orthodox Church 319 S. 20th Street  Easton, PA  18042.  Burial in Cedar Hill Memorial Park Cemetery in Allentown. Funeral arrangements by the Herron Funeral Home Bethlehem, PA, www.Herronfuneralhomes.com
Contributions: Annunciation Greek Orthodox Church 319 S. 20th Street Easton, PA  18042.