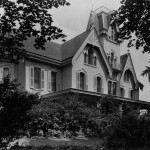 Dodson Mansion- just name Weston Dodson Residence circa 1865.
Carriage house sat on Dodson property and was later moved in the 1950's to make room for the caretakers house who was granted life tenancy.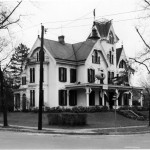 It then became a Lehigh fraternity until the early 1950's, notice the large inflatable balloons that adorn the exterior of the home.
In the late 1950's the Dodson Mansion became a funeral home, when it was purchased by H. Scott and Verna L. Ashton. The Ashton's had the funeral home until they retired in 1979.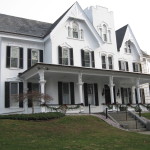 In 1979 the Dodson Mansion was purchased by John F. and Katherine D. Herron, who are the fourth owners of the property at Center and Market Street in Bethlehem. John and Katherine were originally from the coal regions, Coaldale and Tamaqua respectively. They have four children Kathy, Paula, Grace and Demetrios and seven grandsons Demetri, Connor, R. J., Zackary, Nicholas, John and Drew. Ironically John's father John J. Herron was a coalminer and worked for Lehigh Navigation Coal Company which as owned by the Dodson's.
The John F. Herron Funeral Home continues to be a prominent Historic Building in Bethlehem and the current owners are committed to maintaining the historic nature of the building. The Herron Funeral Home is under the direction of Demetrios J. Herron, Paula C. Herron, Connor J. Herron and Andrew F. Herron, the son, daughter and grandsons of the late John F. Herron and Katherine D. Herron. They continue to serve the families of the Lehigh Valley with the most elaborate facilities and are committed to providing service to all families regardless of their social or economic needs.