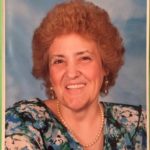 Annette Riepensell, 65 of Allentown passed away on June 9, 2021.
Annette was born in Allentown on June 2, 1956, daughter of Anne Marie (Kaliniak) Riepensell and the late Joseph B. Riepensell.
Annette was a teacher's aide at Lehigh Valley Child Care Growing Connections for over 20 years. She loved children.
Annette was a member of St. Paul's Catholic Church in Allentown.
Survivors: Her Mother Anne Marie Riepensell, sister Carol Ann Riepensell and her brothers Joe Riepensell, Jr. husband of Juanita, Jack Riepensell husband of Cas and Jim Riepensell husband of Kathy, Jay husband of Carol and many nieces, nephews, aunts, uncles and cousins.
Viewing & Mass: Tuesday June 15, 2021 at 11AM with a viewing from 10AM to 11AM at St. Paul's RCC 920 South 2nd Street Allentown. Burial in Resurrection Cemetery in Allentown. Funeral arrangements are by the Sell-Herron Funeral Home in Allentown, www.Herronfuneralhomes.com
Contributions: Mercy Special learning Center