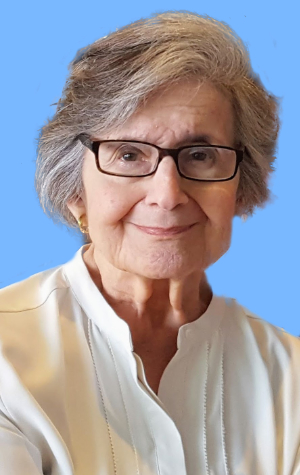 Athena N. Stamus, 83, loving wife, mother, grandmother extraordinaire, sister, and a true friend to many. A teacher, a brilliant award winning fine artist, a successful local business owner and a faithful Greek Orthodox Christian, passed away peacefully with her family by her side May 25th, 2021. Born on October 26, 1937 in Marion, Indiana, daughter of Nicholas Chochos and Demetra (Maheras) Chochos, both of Sparti, Greece. She was the youngest of four siblings, survived by her sister Liberty Pasyanos, preceded in death by her brothers Chris C. Chochos and Peter N. Chochos.
An active member of GOYA, she met her husband Spiros P. Stamus in New Orleans at a conference in 1964 and married for 48 years. She was a woman of grace, wit, humor, and fought for justice who loved her five children and family. Well known for her loving kindness and her many achievements, she was a great friend, mother, and mentor. She will be missed by all whose lives she touched.
As a young woman, she sang in the Church of the Holy Trinity choir in Indianapolis and was active in Philoptochos Society there. A graduate of Indiana University, Bloomington, Indiana, she graduated in '58 with a BA in Fine Arts and a minor in Speech & Theater. Winner of numerous awards as part of the Art League, an original beatnik, and one of the first women to wear pants on campus. She taught high school Speech and Art in Indianapolis, then married and raised a family in Easton, PA. Lifelong member of the Annunciation Greek Orthodox Church in Easton and of St. Nicholas Greek Orthodox Cathedral in Bethlehem. Athena was active in Philoptochos in Easton, instrumental in yearly Greek festivals, and active in her children's schools and community. She was an art teacher in PA and owner of Lu-Co Cut Rate Newsstand in Downtown Easton, PA for 12 years.
Survivors: Her children son Panayiotis S. Stamus, daughter Ourania Stamus and son-in-law Tobias Seiple, daughter Demetra Stamus, and daughter Maria S. Nicholas and son-in-law Christos; sister Liberty Pasyanos wife of John,  10 beloved grandchildren, Sophia, Athena and Nicoletta Stamus; Maria, Athena and Niko Seiple; Nicholas, Theodora, Spiros and Loukas Nicholas, as well as beloved nieces and nephews.  Athena was preceded in death by her beloved son, Nikolas S. Stamus who was killed by a drunk driver on August 12, 2008 and by two brothers Chris and Peter Chochos.
Services:  Funeral Service, Saturday May 29, 2021 at 10AM in St. Nicholas Greek Orthodox Cathedral in Bethlehem with livestreaming at www.stnicholas.org/stamus  Viewing on Friday evening  from 7 to 9 PM with a Trisagion Service at 8PM  and a viewing on Saturday morning from 9AM to 10AM, all at St. Nicholas Greek Orthodox Cathedral 1607 West Union Blvd. in Bethlehem, PA  18017.  Burial to follow in Easton Cemetery. Funeral arrangements by the Herron Funeral Home in Bethlehem, www.Herronfuneralhomes.com
Contributions:  In lieu of flowers, the family requests that contributions be made to the Building Fund of the Annunciation Greek Orthodox Church, 20th and Hay Terrace, Easton, PA 18042, St. Nicholas Greek Orthodox Cathedral, 1607 West Union Blvd., Bethlehem, PA 18017, or the Parkinson Foundation of the National Capital Area, 8830 Cameron Street #201, Silver Spring, MD 20910