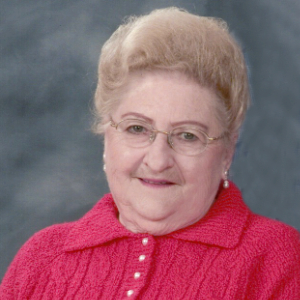 Betty M. Andrews, 90, of Allentown, wife of Willard P. Andrews, died at home surrounded by her family on November 22, 2018, her 71st Wedding Anniversary.
Betty was born in Andreas, PA on September 3, 1928, daughter of the late William A.F. and Louella Irene (Ohl) Snyder.
She was a sewing machine operator at O&H Manufacturing Company on Front Street in Allentown.
Betty graduated from Summit Hill High School in 1946.
Betty was a faithful member of Zion's UCC in Allentown.
She was a member of the Auxiliary of the Fullerton American Legion and was a past member of the Engelbert Humperdinck Fan Club, as well as a  past member of the senior citizen center on the East Side of Allentown.
Survivors: Husband Willard; daughter Carol J. Forman, wife of Harry of Taneytown, MD; son Paul W. Andrews, husband of Wendy E. of Northampton; three grandchildren: Christopher A. Forman, husband of Brooke, Jennifer E. Baile, wife of Matt, and Andriana E. Andrews; ten great grandchildren. Predeceased by a sister Gloria Robertshaw and brothers Stanley and Lamar Snyder.
Service: Viewing on Tuesday November 27, 2018,1PM-2PM followed by her Funeral Service at 2PM in the Sell-Herron Funeral  Home 1145 Lehigh Street Allentown.  Burial will be private.
Contributions:  To Zion's UCC 620 W. Hamilton St. Allentown, PA  18101 or to Lehigh Valley Hospice 2024 Lehigh St. Allentown, PA  18103.