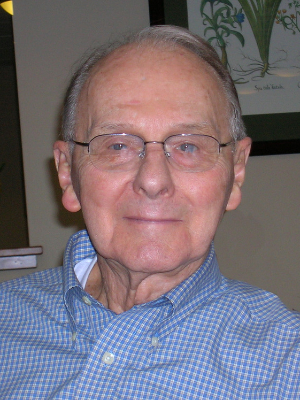 Dr. Bruce C. Shank,  98 of Bethlehem passed away on September 16, 2018 at home surrounded by his family.  He shared 66 years of marriage with Dorothy "June" (Hoak) Shank who passed away in 2014.
Bruce was born in Clayton, Illinois the son of the late James H. and Ruth (Cain) Shank.
He served in the Army Air Force in the Pacific during World War II.
Bruce graduated from the University of Denver with an EdD in 1956, and was a College Professor at Ball State University teaching Business Education and Office Administration until 1984.
He was an avid gardener, card player, and enjoyed attending musical concerts and Indiana basketball games.
Survivors:  Daughter DeAnn G. Artim, wife of James of Bethlehem, son David Shank, husband of Roberta of Bloomington, IN; six grandchildren Eric Shank, Kathryn, Lauren, and Grace Martin, Lindsey wife of Amber Walters, and Jordan Artim. Two great-grandchildren Emma Martin and Nathan Walters.  Predeceased by a grandson Jason Artim and two brothers Harold and William Shank of Clayton, IL.
Service: Memorial Service will be held Sunday September 23rd at 4PM. There will be a calling hour from 3pm to 4pm in the John F. Herron Funeral Home 458 Center Street Bethlehem. Private burial with military honors will be at Washington Crossings National Cemetery.
Contributions:  March of Dimes in care of the Funeral Home, 18018