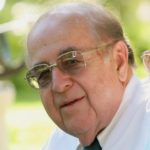 Cecil A. Blocker, Jr., 88, of Bethlehem, died on June 23, 2019. He was the husband of the late Virginia (Wakeman) Blocker and the late Margaret (Thill) Blocker. He was the companion of Delores DeLaurentis.
Cecil was born in Columbus, Ohio on February 15, 1931 to the late Cecil A. and Elizabeth (Davis) Blocker.
He served as a Principal and past President of the Ultramax Corporation, a Cincinnati based company devoted to providing industry with advanced computer-based systems to optimize processes for on-going quality and productivity improvement. He was also a registered professional engineer holding two engineering degrees, a M.B.A. from the Ohio State University and a M.S. in Management from the Frostburg State University. He was chairman/president of several communities and professional societies and taught courses in Management, Productivity and Quality. He was listed in Who's Who in the Midwest, Who's Who in Industry, the Standard and Poor's Register of Corporation, Directors and Executives and was a Fellow of the American Society for Quality Control.
Cecil was an active member and former President of the Unitarian Universalist Church where he also served as an usher and was a part of the Shakespeare Festival. He and his late wife Ginny were also members of the Historic Society in Bethlehem.
Survivors: Son Craig A. Blocker (Linda), daughters Debra Kregenow (Scott), Victoria Tiley (Joe) and Jacqueline L. Blocker; stepdaughters Leslie Ford, Mary Kershaw (Isaac) and Kathryn Reigler (John); stepson Russell Weyls (Carrie); sister Elizabeth Kidwell; 22 grandchildren and 18 great grandchildren. Predeceased by a brother James M.S. Blocker
Service: A memorial service will be held on July 20th at 11AM at the Unitarian Universalist Church of the Lehigh Valley, 424 Center Street, Bethlehem, PA 18018. www.Herronfuneralhomes.com
Contributions: In lieu of flowers contributions can be made to the Church.