Charles Cassard Kaesemeyer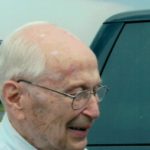 Charles Cassard Kaesemeyer of Kirkland Village, Bethlehem and member of Central Moravian Church, died October 4, 2016.  He was born February 16, 1914 in Baltimore, Maryland, son of Charles Frederick Kaesemeyer and Naomi Bolgiano  Kaesemeyer.  He came to Bethlehem as a student of industrial engineering at Lehigh University (class of 1935) from Hazleton High School and Freeland Mining and Mechanical Institute.  In 1935 he was employed by Fuller Company in Catasauqua where he worked until his retirement. He married Marjorie Couch of Bethlehem on October 31, 1936.
In the early years of his marriage Cassard worked on the construction of Grand Coolie Dam and two other dams in Washington State.  In the late 30's he and Marjorie returned to Bethlehem, where their children were born. Cassard was transferred to manage the Fuller office in Chicago in 1945. While in Illinois, he and Marjorie were active in Western Springs Community Theater and the Hinsdale Congregational Church. When Cassard was transferred back to Catasauqua in 1951, the family settled in Emmaus, where he served as an Elder in the Emmaus Moravian Church. In the mid-1950's he enjoyed travelling for Fuller in France, Germany, South Africa, and (then) Rhodesia.
In 1963 Cassard and Marjorie moved again to Bethlehem and joined Central Moravian Church where he served as an Elder and Sacristan (and Putz worker). He volunteered at St. Luke's Hospital and served on the board of Historic Bethlehem. He was a faithful supporter of the Bethlehem Bach Choir and many educational endeavors. Nearing retirement Cassard discovered the joy and adventure of skeet shooting and scuba diving. He was joined on some of his diving excursions by family members and made diving friends of all ages. Out of love and concern for marine life he joined the Galapagos Conservancy. He was generous and active in the life of Kirkland Village, especially on the Art and Deco Committee.
From his father Cassard inherited a sense of adventure and mechanical ability and from his mother a care-taking nature.  From both he imbibed courtesy, honesty and a lack of pretension. His writing ability and quiet humor were all his own; his wilder sense of fun came from Marjorie. Cassard was a conscientious and loving husband, father, grandfather, great-grandfather and uncle.
Survivors: He is survived by their children, daughters Roberta Brown (Philip) of Chevy Chase, Maryland and Paula Presler (Franklin) of Kalamazoo, Michigan; and son, Thomas Kaesemeyer (Sarah) of Denver, Colorado. Cassard is survived also by seven grandchildren, Sarah Margolis and Christine Scardigli, Gabriel, Edith and Clara Presler, and Kate Hamilton and Karl Kaesemeyer; and by great-grandchildren, Sam, Allison, Ben, Christopher, Matthew, Lucy, Eloise, Sophie, Isaac, Priya, Asa, Wesley, and Isaiah. He was predeceased by his wife, Marjorie.
Service: A Memorial Service will be held at 11:00 a.m. on Saturday, November 19th at Central Moravian Church, Main and Church Streets, Bethlehem. Following the service there will be a reception in the Christian Education building across Heckewelder Place. Funeral arrangements are by the John F. Herron Funeral Home, Bethlehem.
Contributions may be made to Moravian Academy or Central Moravian Church.