Dr. Anastasia (Bassios) Petrides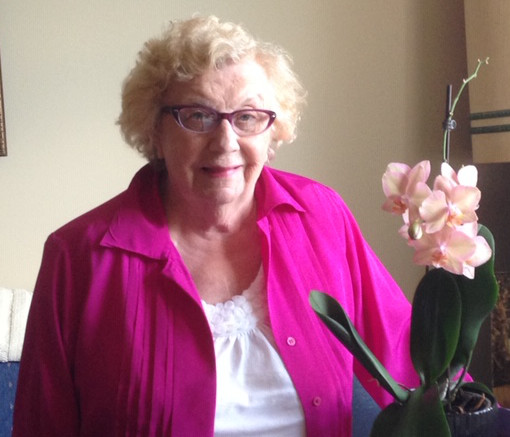 Dr. Anastasia (Bassios) Petrides (age 86), a resident of White Horse Village retirement community in Lima, PA for the past 10 years, fell asleep in the Lord, on Saturday Oct. 17th, while living at the home of her daughter, Alexis Petrides Hackett. She is survived by her ex-husband, Demetrios Petrides, her four children, thirteen grandchildren, three great-grandchildren, two nephews, and many more friends and families who remember her fondly for her loving and wise care as their pediatrician.
Born in the Greek speaking village of Sotira, Albania on May 7th in 1934, she came to the U.S at the age of five with her mother, Anna (Karasa), just before Albania closed it's borders at the beginning of World War II. She almost died from sickness on the long boat ride to America. Her father, John, had come to the United States to work and they met each other for the first time at Ellis Island. The three settled in Worcester, MA where her younger sister, Dorothea, and younger brother, Photios were born. 'Stacia', 'Dottie', and 'Fran' grew up with their parents within the Greek Orthodox Christian church/community of St. Spyridon in Worcester. Possessing a sharp intellect, she graduated from High School in 3 ½ years, and from Clark University with a B.S. in Biology, before attending Women's Medical School in Philadelphia, PA.
While in Philadelphia, she married Demetrios (Jimmy) Petrides, also from Worcester, MA who was stationed at Dover Air Force Base. They lived first in Manayunk, then moved to Springfield, Delaware County and then to Chester County where they raised their four children and worshipped at St. Luke's Greek Orthodox Church in Broomall, PA.
Stacia practiced as a Pediatrician in a number of hospitals but the majority of her life's work involved serving the special needs residents at Elwyn Institute. After practicing for 50 years, during which time she was recognized with distinction by her peers, she retired but continued to share her wisdom and experience for many years more. She accomplished so much in her life, and though she suffered and had sorrow, she will be remembered most for her love and compassion.
She was preceded in death by her parents, John and Anna Bassios as well as by her younger sister, Dorothy White and her brother, Fran Bassios.
Her passing is mourned by her four children and their families: Alexis Petrides Hackett and her son Devar; Fr. Theodore Petrides, his wife Presvytera Cristen and their six children, Fr. Alexandros (wife Stephanie and children, Niko, Chris, and Andy), Nikos Petrides (and his fiancée, Katya Noreika), Anna Popescu and her husband Andy, Photini Buck and her husband Dimitrios, Despina Pappas and her husband Elias, and Zoe Eleni Petrides; Matthew Petrides, his wife Elizabeth, his two children from a previous marriage Christopher and Steven, and their two children James and Chloe; John Petrides and his wife Tracey and their two children Nicholas and Alex. She also is greatly missed by her two nephews in MA., Gary and Steven White and her extended relations living in Albania and here in the United States. May her memory be eternal.
Viewing and Service: Wednesday October 21, 2020 from 11AM to 1PM followed by the Funeral Service at 1PM in St. Luke Greek Orthodox Church 35 N. Malin Road Broomall, PA 19088. The Funeral service will be livestreamed using www.stnicholas.org/petrides
Due to the COVID-19 restrictions the family regrets that they will be unable to offer a Makaria (Funeral Luncheon) following the service. Burial will be on Thursday October 22, 2020 at 1PM in Hope Cemetery in Worcester, MA. Condolences to the family may be emailed to [email protected] .
Contributions in her memory may be given to: St. Luke's Greek Orthodox Church, the Alzheimers Association, or John and Tracey Petrides Revocable Trust for Nicholas and Alexander Petrides all in care of the Herron Funeral Home 458 Center Street Bethlehem, PA 18018. www.Herronfuneralhomes.com