Edward John Lilienthal, Jr.
Edward John Lilienthal, Jr.
July 22, 1957 – February 6, 2021
"Never Say Goodbye, only See You Later."-EJL, jr.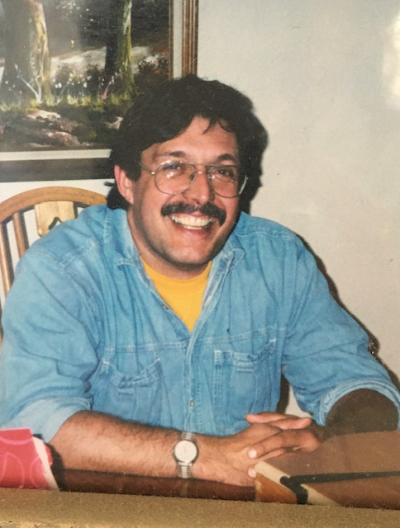 Edward aka, "EP" as his father called him, was born in Englewood, New Jersey to Edward Sr. and Catherine Lilienthal on July 22, 1957. In a close-knit, Italian-German American family of 6, Ed was the leader of the pack. He was followed by his adoring sisters Laura and Nan, and his (big) little brother Eric. It was in Livingston, NJ in a 13-room farmhouse where many of his greatest childhood memories were made with his clan, especially in "The Barn."
Ed was called many names by many people; Eddy, Chief, Mooch, Ed the Fred, Teddy and Bro Bacon, all having a story behind it. From first loves, to his long hair football days, high school nicknames, and sweet terms of endearment, he was special to many. Ed was handsome, smart, talented, fun and REAL. He taught himself to play guitar and loved to play his favorite Neil Young songs. Ed had a 'heart of gold' and an earnest way of being gentle, loving and kind. He was a friend to everyone, but for many an idol and an inspiration during his later years. He loved the Jets, Harley-Davidson, Classic Rock and especially being outdoors in the sun. The only thing brighter than the sun, was his smile. He truly lit up the room with his big smile and his joyous spirit. He was a gifted athlete, playing baseball and football for the Livingston Lancers. He proudly wore #88 and was cheered on by most; but his biggest and LOUDEST supporter was Mom, his #1 fan.
After high school he studied at Somerset Community College, then moved to Florida to work on a shipping boat, then back home to work in insurance at USF & G. There he joined the company's bowling league, where he met and eventually married Debbie. Together, they moved to Easton, Pa. and in June, of 1987 they had their first and only daughter, Jessica. Jessica was the joy of his life, and a wild, fun-loving little "daddy's girl."
Sadly, in 1993, Ed was diagnosed with Multiple Sclerosis, but he carried on. His "it is, what it is," attitude and his love of music, nature, family and friends, kept him going. Especially his friend Albert who he jokingly called, "My Pal AL." He found much support in his Illness through the MS Society and met many more close friends, that helped him to "keep on, keepin' on," as he would say. They referred to themselves as, the Ricochet Club.
It was during this time, Ed met and married his second wife Torrey, and become a father to two step sons Josh and Brett. Together, they shared over 25 years of marriage, family trips, picnics, sporting events, gatherings at Calvary Wesleyan Church, and the operation of Neighborhood Electronics Inc. It was here at N.E.I, that Ed showcased his engineering talents. He was the trusted neighborhood repair man, for all your 90s'novelty home entertainment appliance needs. He put his heart and soul into this shop, and it was thriving for many years. So many great times shared, yet also some very rough ones. Ed received yet another unfortunate Diagnosis; End Stage Renal Disease and was forced to endure dialysis three times a week for what would become the greater part of the last 12 years.
His family and friends often wondered how he could stay so optimistic. But it was simple; he did this through his faith, his friendships and his D.A.W.G (Day. Alone. With. God) days. This was his way to center himself and fight the good fight. His family and friends were often left in awe, at his strength and determination to never give up, and that he sure didn't.
Ed was a Father, a Husband, a Brother, an Uncle, a Grandpa (Opa) and a Friend-but above all else, he was an Angel, sent to this earth to bring smiles, laughter and love. Sadly, on February 6, 2021, he was called back home to join his mother and father in Heaven, to Rest in Peace. Surrounded by those who loved him most, Ed died peacefully listening to his favorite prayer "The Lord's Prayer," accompanied of course, with his favorite rock music. We know he is running again, tossing a football again and playing his guitar again. We know he will be guiding and protecting his family and friends, as always, now just from afar.
Ed leaves behind his wife Torrey Lilienthal, daughter Jessica Lilienthal, step sons Joshua and Brett Nelson, his sisters and brothers' in-law Laura and Joseph Byrne, Nancy and Howard Hoffman, his brother Eric Lilienthal, his grandson Hunter Blair, and his nephews James and Nicolas Hoffman and Joseph and Michael Byrne.
We may ask ourselves, how do we begin to say goodbye? But the answer is, we don't. We just say, as ED would have it, "See You Later." WE LOVE YOU ED.
His family will be hosting a Memorial Celebration of His Life, this Spring 2021, at Louise Moore Park in Easton, Pa. Date is to be determined, and with a rain date. Details to follow. In lieu of flowers, please send any contributions in his name to the National Multiple Sclerosis Society.
https://secure.nationalmssociety.org/site/Donation2?df_id=55995&55995.donation=form1