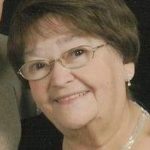 Elizabeth J. Ritter, 81 of Allentown died peacefully on March 13, 2020 at the Inpatient Hospice Unit at Lehigh Valley Hospital in Allentown. She was the wife of the late Donald A.M. Ritter, Sr.
Elizabeth was born on July 16, 1938 in Bloomsbury, NJ daughter of the late Archie and Grace (Merwarth) Brotzman, Sr.
Elizabeth was devoted and loving with her family and friends. She enjoyed playing cards with her friends at B'nai Brith where she resided and was Dallas Cowboy fan. Elizabeth was a member of Emmanuel Assembly of God in Allentown. She was involved in the nursing home ministry for many years at the church, Ladies prayer, and Bible studied at B'nai Brith. Elizabeth was a follower of Jesus Christ and will be sorely missed by all who knew her. Elizabeth spends eternity in heaven with her Savior and her God, the Lord Jesus Christ.
Survivors: sons Donald A.M. Ritter, Jr. and wife Karen of Allentown, Curt D. Ritter and wife Marcie of Bethlehem, Todd R. Ritter and wife Selma of Macungie; daughter Nadine J. Ritter of Catasauqua; son in law Robert Ringer of Wescosville; brothers Roger Brotzman, Sr. of Easton and Jerry Brotzman, Sr. of Stockertown; 9 grandchildren,14 great-grandchildren, 4 great-great grandchildren. Predeceased by a daughter Renee Ringer, sister Grace Tordanato and brother Archie Brotzman, Jr.
Service: Funeral Service on Tuesday March 17, 2020 at 10:30 AM with a viewing from 9:30AM to 10:30AM at the Sell-Herron Funeral Home 1145 Lehigh Street Allentown. Burial in Northwood Cemetery in Emmaus. www.Herronfuneralhomes.com .
Contributions: Emmanuel Assembly of God 1431 Lehigh Parkway East Allentown, PA 18103.Allentown