Ernesto Liciaga-Lopez, Jr.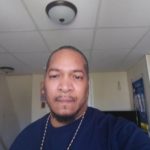 Ernesto Liciaga-Lopez, Jr. 48 of Tamaqua passed away on May 30, 2021.
Survivors: Parent's Ernesto Liciaga Gonzalez and Julia Lopez-Valle; fiance Elizabeth Almodovar, children Xavier Liciaga de Jesus, Hector Escalara, Felicia Liciaga and Priscilla Liciaga; sisters Janet Liciaga (Bruce Lee Colon), Joswin Liciaga and Bianca Liciaga (Brian Denny Ramos); 6 grandchildren .
Viewing &Service: Thursday June 10, 2021 at 11 AM with a viewing 10-11AM all at the Sell-Herron Funeral Home in Allentown 1145 Lehigh Street Allentown, PA 18103. Burial in Greenwood Cemetery in Allentown. www.Herronfuneralhomes.com
Contributions: To the family in C/O Funeral Home.