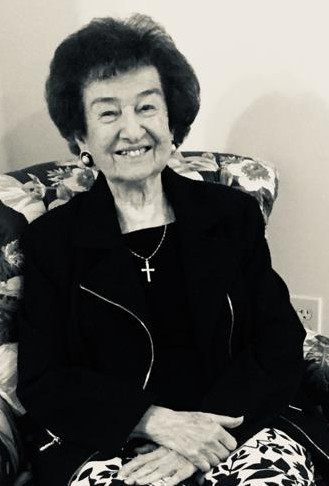 Evelyn G. Zumas, 93, of Bethlehem died on May 4, 2020. She was the wife of the late Michael N. Zumas (1922-1981). 
Evelyn was born on May 13, 1926 in Warren, OH, where she was also raised. She was the daughter of the late Harry G. and Sevasmia (Michalakis) Gentithes of Chios, Greece. She was preceded in death by her sisters, Irene Bourdamis and Mary Paidas, and her brother George H. Gentithes.
Evelyn graduated from Warren G. Harding High School in Warren, OH. The family lived in an apartment above the family business, The Snowflake Laundry, and she and her siblings worked after school and on Saturdays to keep it afloat during the Great Depression.
Evelyn married Michael N. Zumas in Warren on January 20, 1946, in a triple wedding that included her sister Mary and brother George and their spouses. The wedding was conducted by the Greek Orthodox archbishop of New York, Athenagora, who later became Patriarch of the Orthodox faith worldwide.
Mike and she successfully managed the family's Modern Laundry in Warren before moving to Bethlehem in 1966, where they spent the rest of their lives together with family, friends, and their son, Nicholas M. Zumas. They enjoyed trips with family to the Bimini Bay Motel in Miami, Florida, which was owned by her father, Harry.
In her later years, Evelyn spent many winters in Venice, Florida and many summers in Hilton Head Island, South Carolina with her son, granddaughters, nieces, nephews, cousins, and countless friends.
Family, faith, and generosity were the cornerstones of Evelyn's life. Evelyn was a dedicated wife, mother, Yia-Yia (grandmother), and godmother to more than 18 godchildren. She was like a second mother to many others. She treasured her son, granddaughters, and family and cherished every moment with them. Nothing made her happier than hosting all of her family and spending time with loved ones. Evelyn was an incredible cook and, over the years, many people enjoyed sitting in her kitchen having a home-cooked meal. She was the clear matriarch of her extended family and had a one-of-a-kind gift for bringing people together. Her quick wit, spirit, liveliness, and generosity ensured she made friends everywhere she went.
Evelyn was a faithful member of St. Nicholas Greek Orthodox Cathedral in Bethlehem, PA where she was a member of the Philoptochos Society and the Senior Citizens. She was also a longtime member of St. Demetrios Greek Orthodox Church in Warren, Ohio where she was active in numerous groups and organizations. In addition to her work in the church, Evelyn was involved in many social and charitable organizations. She was a Life Member of the Daughters of Penelope, Paeon Chapter #253 in Bethlehem, PA. Evelyn was also a past President and an active member of the KidsPeace Ladies Auxiliary for more than 40 years, where she served as Chairman of their Annual Fashion Show for more than 25 years. Outside of these responsibilities, she belonged to the Garden Club and was an avid Bridge player.
Survivors:  Her son Nicholas M. Zumas, Esq. of Bethlehem, granddaughters Brooke Evelyn and Stefanie G. Zumas, as well as many nieces, nephews, and godchildren across the country.
Viewing: There will be a Safe and Secure Drive Thru Viewing Thursday May 7, 2020 from 4PM to 5PM  using the Center Street Entrance of the John F. Herron Funeral Home 458 Center Street Bethlehem, PA  18018.
Service:  Funeral Service will be private and will be livestreamed from St. Nicholas Greek Orthodox Cathedral on Friday May 8, 2020 at 12 p.m. using the following link: www.stnicholas.org/zumas This link will be available 15 minutes prior to the service.  Private burial will be in Bethlehem Memorial Park Cemetery. A Celebration of Life to gather Evelyn's friends and family together will be held at a future date.  www.Herronfuneralhomes.com
Contributions:  In her memory to KidsPeace or St. Nicholas in c/o Herron Funeral Home 458 Center Street Bethlehem, PA  18018.