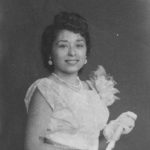 Felicita M. Robb, 77 of Bethlehem passed peacefully surrounded by her children on October 14, 2016, what would have been her late husband Paul's 75th Birthday.
The daughter of the late Emilio and Valeriana (Santiago) Lugo, she was born in Humacao, PR on January 6, 1939. She lived a full life and overcame many obstacles, including losing both parents at a young age. The youngest of 10, she was raised by her siblings. She went on to eventually earn her BSN at the Catholic University of Puerto Rico and worked as a Registered Nurse in NJ, FL, and PA before retiring. She loved all areas of nursing, but ultimately concentrated in Psych, where she finished her career.
She was a loving wife, mother, grandmother, sister and aunt and enjoyed spending time with her family. She was a devout Catholic. She spent several years as a member of the Sisters of St Joseph, but prior to taking her final vows, she was called to become a wife and mother. She spent time volunteering at the St Francis Retreat House and serving as a Catechist at Holy Infancy. She had been a member of both Holy Infancy and Our Lady of Perpetual Help RCC.
Survivors: Her son Joseph, of Bethlehem; daughter Dr. Teresa Robb, wife of Dr. Brian Cooper of TN; grandchildren Marissa, Justin and Matthew Cooper; and many nieces and nephews.  She was predeceased by her husband Paul W. Robb; eldest son John P. Robb; brothers Fermin, Carlos, Julio, Faustino, Francisco and Narciso Lugo; and sisters Felipa Almodovar, Engracia Alicea and Aurora Molina.
Service: Viewing Friday, 6-8PM in the funeral home. Mass on Saturday at 10:30AM with viewing one hour prior at Our Lady of Perpetual Help, 3219 Santee Rd. Bethlehem. Funeral arrangements are by the John F. Herron Funeral Home 458 Center at Market Streets, Bethlehem.
Contributions: Alzheimer's Association