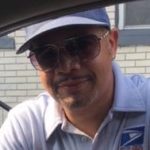 Fernando Parrilla, 51 of Whitehall died on June 11, 2018 at St. Luke's Sacred Heart Campus in Allentown.
Fernando was born in San Juan, Puerto Rico on August 8, 1966, son of the late Fernando Parrilla and of Hilda (Travieso) Singh.
Survivors: Mother Hilda; Son Fernando Justin Parrilla and his mother Yvette Rios; wife Valerie Campo and her children Lazavia Campo, Alexis Molina and grandchildren Marleigh and Cory; brothers Albert Parrilla and Joseph Parrilla; sisters Diana Bellamy and Ruthy Bellamy.
Service: Viewing on Friday, June 15th from 6PM-8PM in the Sell-Herron Funeral Home, 1145 Lehigh St., Allentown, PA 18103.
Contributions: To the family c/o the Funeral Home.