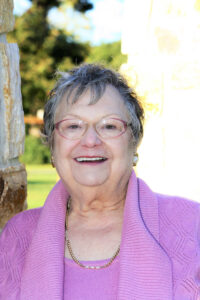 If we live on in the hearts of those we leave behind, there are too many hearts to count that are carrying Florence Burke Gable now.
Florence, 76, of Whitehall, passed away on May 19, 2023, at Whitehall Manor surrounded by her family.
Known as Flo, Cuppy or Mom, she was born on March 11, 1947, in New Haven, CT the daughter of the late John and Florence Margaret (Clark) Burke.
One of eight children, Flo went through life with an ever-growing family built by birth and by choice.
Her connection with strangers and friends made her a natural as a regional leader for Queens-Way to Fashion and then a financial advisor for Met Life, before retiring in 2003.
Quick with a smile or a song, she was a pistol who took the time to tell the best jokes.
Lord help you if you played against her in any game, because it didn't matter who you were, it was all about winning. Just ask her kids and grandkids.
Flo would offer whatever she could, sometimes more than she had, and was always generous with her time. She offered so many people an easy smile and a ready ear, an open door and open arms, kind words and a loving heart.
She is survived by her children Kimberly Muschlitz wife of Brett of Catasauqua, Carl Gable husband of Sarah Cassi of Bethlehem, John Gable husband of Shannon of Lower Macungie Township, and Maggie Hauck wife of Doug of Laurys Station; stepchildren Kermit Gable of Texas, and Kenneth Gable of Florida; seven grandchildren; her sister Mary Patricia Wnuk; brothers Paul Burke husband of Gloria, and Thomas Burke husband of Patricia; and sister-in-law Beverly Burke.
There are so many others that Flo took under her wing and made space for in her heart.
She was a faithful member and Confraternity of Christian Doctrine (CCD) teacher at Immaculate Conception Catholic Church in Allentown.
There are plenty of tears now, but there is also comfort in knowing Flo is with her God, surrounded by the people she loves, with a cup of coffee just the way she likes it.
Viewing: Thursday June 1, 2023, from 5 p.m. to 7 p.m. in the Herron Funeral Home, 458 Center Street, Bethlehem, Pa. 18018.
Funeral Mass: Friday June 2, 2023, calling from 10 a.m. to 11 a.m., followed by the Mass at 11 a.m. at St. Thomas More Catholic Church, 1040 Flexer Avenue, Allentown, Pa. 18104. www.Herronfuneralhomes.com
Contributions: In lieu of flowers the family wishes contributions be made to St. Jude Children's Research Hospital or to Catholic Charities USA.