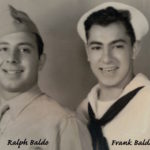 Frank Baldo, 92, of Bethlehem passed away peacefully at home surrounded by his family on July 15, 2016. He was born in Brooklyn, New York on October 4, 1923, son of the late Nicola and Mildred (Lepre) Baldo.
Frank was survived by Philomae, his wife of 58 years, four children, Nicholas, Susan, Thomas, and Andrew and nine grand children.
Frank faithfully served his county for over twenty years. He was a Master Sergeant in the Navy serving in the Pacific theatre of World War II, the Air Force during the Korean War and later in the Air Force Reserves during the Viet Nam conflict.
He was employed by the Bethlehem Steel Corporation as an aviation mechanic foreman for over 27 years before retiring in 1986. Frank loved sports and was a diehard Philadelphia Phillies and Eagles fan. When he was not watching a game, he enjoyed spending time wood working and traveling. He was blessed with many dear and loyal friends that kept him active and involved through the years.
Frank was a loving and dedicated husband, father and grandfather. His strength, fortitude and perseverance will live on in his children and grandchildren.
Service: Mass of Christian Burial on Saturday July 23, 2016 at 10:00 AM at Notre Dame Catholic Church, 1861 Catasauqua Road Bethlehem. There will be a viewing from 9:00 AM to 10:00 AM at the Church. Burial to follow at Bethlehem Memorial Park Cemetery. Funeral arrangements are by John F. Herron Funeral Home, 458 Center at Market Street, Bethlehem. Contributions in his memory may be made to Notre Dame RCC Hall Fund or to Lehigh Valley Hospice