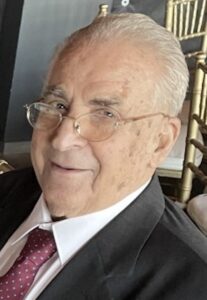 George C. Yialamas, 92 of Kutztown, formerly of Allentown, passed away on November 1, 2022 surrounded by  family at Lehigh Valley Hospital in Allentown.   George was born in Filia, Lesvos, Greece on December 26, 1929, son of the late Constantine and Dorothea (Vamvakoula) Yialamas. He served in the Greek military, married, and emigrated to the United States in 1955. He deeply loved both Greece and the US.   He was a Real Estate Developer in Allentown as well as a Licensed Master Electrician and Licensed Master Plumber.  He was a beekeeper, goat and chicken farmer, and an avid deer hunter. He enjoyed people, good food, dancing, music, and poetry. He was devoted to the family business a coffee house in Filia, Greece, which was operated by his brother Efstratios for many years.  He was the Founder and President of the Filian Society  and Past President of the Order of AHEPA Allentown Chapter #60 which were Greek-American cultural and philanthropic organizations.  He was a member of St. Nicholas Greek Orthodox Cathedral in Bethlehem and also attended St Mathews in Blandon PA.
Survivors: His children, daughter Dorothea Y. Sanchez wife of Mike of Rochester, NY, son Constantine G. Yialamas husband of Kathy of Nazareth, daughter Helen Kraft wife of Donald of Montville, NJ  and son Nick G. Yialamas husband of Yuka of Allentown  and their mother, Agatha Yialamas of Allentown; eight grandchildren Katelyn and Jonathan Kraft, Christina and Michael Sanchez, Sophia, Georgia, Efstratios and Dimitra Yialamas; brother Efstratios Yialamas husband of Evangelia of Filia, Greece and sister Vithlem Kefalas wife of Yiannis of Filia, Greece. Predeceased by a sister Irini Vardaxis. Later in life, Eleni Seretis was his steadfast companion.
Viewing and Service:  Saturday November 5, 2022, viewing 10:30AM to 11:30 AM followed by the Funeral  Service at 11:30 AM  at St. Nicholas Greek Orthodox Cathedral 1607 West Union Blvd. Bethlehem, PA  18018.Livestream link: www.stnicholas.org/GeorgeYialamas     Burial in Cedar Hill memorial Park Cemetery in Allentown.  Funeral arrangements by the Herron Funeral Home Bethlehem, www.Herronfuneralhomes.com
Contributions:  In lieu of flowers you may send a donation to his son Nick Yialamas, c/o Herron Funeral Home 458 Center St. Bethlehem, PA  18018. Monies collected will be used for a much-needed upgrade to the electrical service at the Elementary School in his hometown of Filia, Lesvos, Greece.