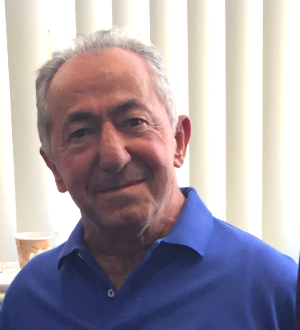 George Stamatios Psarros, 74 of Bethlehem, PA passed away on Monday, October 15th 2018 at Lehigh Valley Hospital-Muhlenberg.  He fell asleep, surrounded by his loving family.  George was the husband of Maria Psarros; they were married 49 loving years.
George was born on September 22, 1944, in Kambia, Chios, Greece, son of the late Stamatios and Anna Psarros. He served in the Greek Army as a chef.  He took his wife and young son across the Atlantic to America for a better life.  He worked for L.Z. painting for many years and also worked independently to refurbish homes.
In his last few years of life, George suffered with numerous medical ailments. His daughter Anna always put a smile on his face even when he had a difficult time walking. He worked tirelessly to always provide for his family and his great joys were playing with his grandchildren.  His most important accomplishment was working hard to send his son to medical school and seeing his son become a neurosurgeon.
Survivors: His wife, Maria, their son Dr. Stamatios  (Thomas) his wife Sandy, his daughter Anna and his grandchildren George and Mary all of the Lehigh Valley; sister Sophia Skyriotis of New Jersey, and family and friends here and in Greece
Service: Viewing is on Thursday, October 18th from 10AM to 11AM and Funeral at 11AM at St. Nicholas Greek Orthodox Cathedral 1607 W. Union Blvd. Bethlehem, PA 18018.      Burial in Cedar Hill Memorial Park Cemetery in Allentown. Funeral arrangements are by the John F. Herron Funeral Home in Bethlehem.
Contributions:  As was his giving nature and faith, the family asks that in lieu of flowers, donations be made in his memory to Saint Nicholas Greek Orthodox Cathedral or to St. Markella Society in c/o the Funeral Home.