Georgene A. Kostenbader Frisoli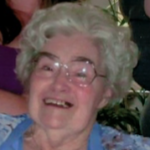 Georgene A. Kostenbader Frisoli, 87 of Bethlehem died on Tuesday June 14, 2016 at Moravian Hall Square in Nazareth. Wife of the late Vincent P. Frisoli who died in 2000.
She was born in Bethlehem on July 11, 1928, daughter of the late George Tinsley. and Ethel (Zerweck) Graham.
Georgene graduated from Cedar Crest College in 1950 with a BS in Education and received her Masters from Lehigh University in 1969. She taught at Liberty and Freedom High Schools retiring in 1990 after 26 years.
She was a member of Central Moravian Church in Bethlehem and active in women's group at the church.
Survivors: Son Jeffrey A. Kostenbader of Bethlehem; daughter Judith wife of David Chadwick of Bloomington, Indiana; four stepdaughters and their families. 3 granddaughters and 3 great-grandchildren.
Services: There will be a viewing Friday, June 17 from 7-9 PM in the John F. Herron Funeral Home 458 Center At Market Street in Bethlehem. Private burial in Nisky Hill Cemetery in Bethlehem.
Contributions: To Central Moravian Church in Bethlehem.