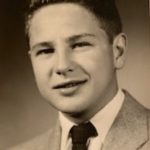 Gordon Paul Groenke, 82 of Fridley, Minnesota passed away on January 16, 2020 in the loving arms of his daughter, Cindy Foxe of Bethlehem, PA. Funeral services will be held June 19, 2020 at 1:30 at Fort Snelling National Cemetery, Minneapolis Minnesota, with Military Honors.
Gordon was born in Lester Prairie, Minnesota on December 21, 1937. Son of the late Arthur and Lorena (Briesemeister) Groenke. Baptism: 1938 and Confirmation 1951 at St Paul Lutheran Church, Lester Prairie, MN.
He was a steel worker at Paper Calmeson & Company until his retirement.
He proudly served in the United States Navy with the NINTH Naval District and continued with the Reserves through 1962.
Gordon was preceded in death by brothers Reverend Lloyd Groenke and Merlin Groenke. Sisters: Ruth Powers and JoAnne Kuenzel Groenke.
He is survived by his daughter Cindy Foxe of Bethlehem, Pennsylvania, his son Michael of St Paul, Minnesota, sisters Glorian Quast Fedderly of Rosemount, MN and Sandra Erickson of Fridley, MN. Also survived by his three grandchildren James D. Foxe, Jonathan R. Foxe and Victoria M. Foxe.
Services. Funeral arrangements by the Herron Funeral Home in Bethlehem, Pennsylvania. www.Herronfuneralhomes.com.
Contributions: Alzheimer's Association.