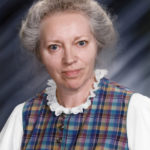 Gudrun Matel, 82, of Bloomsbury, NJ passed away on June 4, 2018, at Country Arch Care Center with her devoted son by her side, following a courageous battle with pancreatic cancer.   Gudrun lived "up on the mountain in the little stone house" in Bloomsbury, NJ for over 50 years. Gudrun was the wife of Pierre Matel.
Gudrun was born on June 26, 1935 in Bad Bergzabern, Germany, daughter of the late Albert and Helene (Felgenhauer) Lichti.
She graduated Cum Laude from Moravian College with a double major in German and French and went on to earn her Masters degree from Lehigh University. In 1977, after briefly substitute teaching, she began a sixteen year tenure at Moravian Academy in Bethlehem, PA, teaching both German and French, with great affection for her students. Gudrun retired in 1993.
Gudrun was a loving wife, mother, grandmother and teacher.   She raised her only child, passing on to him her love of learning, books and supporting his many academic and extracurricular activities.
Her greatest joy was her grandsons, whom she cherished, and with whom she shared the joy of travel, nature, music and languages.
Survivors:   Gudrun is survived by her son, Didier Matel, his wife Penny and three grandsons, Trestan Matel, Guerric Matel and Corey Butterworth, as well as other family both here and in Europe.   Predeceased by her brothers Klaus Lichti and Bodo Lichti.
Service: A Celebration of Gudrun's Life will be on Monday July 23, 2018 at 1PM in the Old Chapel of Central Moravian Church, Heckwelder Place in Bethlehem, PA 18018. All are welcome. Funeral arrangements are by the John F. Herron Funeral Home in Bethlehem, PA, www.Herronfuneralhomes.com.
Contributions: In lieu of flowers, donations can be made in Gudrun's memory to Operation Smile at operationsmile.org.