Henry "Hank" J. Rodriguez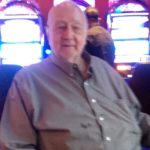 Henry "Hank" J. Rodriguez, age 87, of Wyalusing, PA (formerly of Easton), passed away Friday, July 19, 2019 with his loving daughter, Sara, by his side.
Henry was born on July 28, 1931 in New York, NY, the son of the late Jinnie Martinez Mullinellia and Ignacio Jiminez.
He was employed as Commercial Graphic Artist for the American Can Company. He also owned and operated Handy Hanks Carpentry in Easton, PA. Henry enjoyed reading especially the New York Post. He also took great pleasure in visiting the casinos. Most of all he loved to spend time with his family.
Henry is survived by his children, Rita Schneider and her husband, Christian, of Jacksonville, FL, Duane Rodriguez and his wife, Elizabeth, of Thayer, MO, Sara Rodriguez of Stevensville, PA, and Henry Rodriguez of Easton, PA; four grandchildren; and several great-grandchildren. He is also survived by his siblings, Lily Jetter, of Monroe, LA, Jinnie Willett of Pulaski, VA, and Jose Jiminez and his wife, Maria, of Caracas, Venezuela; as well as many nieces and nephews.
Besides his parents Henry was preceded in death by his loving wife of 52 years, Sharon Pennoyer Rodriguez (d. April 6, 2011), his brother and best friend, Manual Rodriguez (d. May 4, 2011), and his wife, Rose, and his brothers-in-law, Perry Jetter and Paul Willett.
A Celebration of Life for Henry will be held on Monday, July 29, 2019 from 1:00 PM to 2:00 PM at the John F. Herron Funeral Home, 458 Center Street, Bethlehem, PA. Interment will follow at the Northampton Memorial Shrine in Easton, PA.
In lieu of flowers memorial donations may be made in Henry's name to an animal shelter of the donor's choosing.