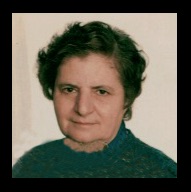 Hrisa H. Lambrinos, 90, of Allentown, died on April 7, 2019. She was the wife of the late Christos L. Lambrinos who died in 1996.
Hrisa was born on November 12, 1928 in Filia, Greece, daughter of the late Stergios and Evrikomi (Marmarou) Savas.
She was a member of St. Nicholas Greek Orthodox Cathedral and was active in Philoptochos and the Senior Citizen's. She helped out in the family's Town & Country Restaurant in Bath.
Survivors: Son Stergios and his wife Christina of Allentown; daughters Anthe (Anthipe) Marmaros, her husband Efstratios of Allentown and Evrikomi Kefala and husband Fotios of Filia, Greece; sisters Panyiota and Eleni both of Australia; eight grandchildren, Annamaria, Chrisa, Hristos, George, Panyiotis, Niki, Christos, Chrisa and eight great grandchildren.
Services: Funeral Service on Wednesday, April 10th, viewing from 10AM-11AM with a service at 11AM at St. Nicholas Greek Orthodox Cathedral, 1607 W. Union Blvd., Bethlehem. Burial to follow at Cedar Hill Memorial Park in Allentown. Arrangements are by John F. Herron Funeral Home, Bethlehem, PA.
Contributions: To the Cathedral.