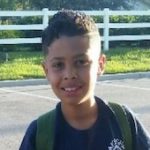 Jayden Shawn Barbosa, 8 years old, of Winter Haven, FL, passed away on Monday, September 11, 2017. He was the son of Kasandra Cartagena and Shawn Barbosa.
Jayden was born in Bethlehem on November 19, 2008.
Survivors:  Mother Kasandra Cartagena, father Shawn Barbosa; brothers Liam Barbosa and Jaxson Gruver; sister London Gruver; maternal grandparents Gilbert Cartagena and Dale Bonilla; paternal grandmother Josephine Rodriguez; cousins, aunts and uncles.
Services:  Viewing Wednesday September 20, 2017 from 2pm until 4 pm.  Service at 4pm in the John F. Herron Funeral Home 458 Center at Market Street  Bethlehem, PA.  Arrangements are by the John F. Herron Funeral Home in Bethlehem.
Interment: Thursday September 21, 2017 at 2:30pm at Holy Saviour Cemetery in Bethlehem.
Contributions: To the family c/o the funeral home.