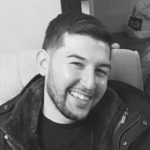 Jeremy Allen Magditch, 31 of Fountain Hill died on April 14, 2017 in his home.
Jeremy was born in Patuxent River, MD on February 18, 1986 son of Edward S. and Rose M. (Ramos) Magditch.
Jeremy graduated from Liberty High School in 2004 and studied Culinary Arts at the Art Institute of Philadelphia. 
He was a chef at Saucon Valley Country Club and had a passion for making people happy through his culinary creations. Jeremy also loved golf, soccer, wrestling, and was an avid Dallas Cowboys football fan.
He was a member of Holy Infancy Catholic Church in Bethlehem.
Survivors:  Parent's, Edward and Rose and younger brother Brandon; Maternal Grandparent's, Candelario and Maria (Melendez) Ramos of Bethlehem; Paternal Grandmother, Catherine Magditch of Allentown; Loving girlfriend Katharine Shaton and her son Michael. Aunts, uncles and cousins also survive him. Predeceased by his oldest brother, Travis, and his Paternal Grandfather, George Magditch.
Service: Funeral Service on Saturday, April 22, 2017 at 10AM. A viewing will be held on Friday from 7PM to 9PM, and Saturday from 9AM to 10AM in John F. Herron Funeral Home at 458 Center and Market Streets in Bethlehem. Burial following Saturday service at Holy Saviour Cemetery in Bethlehem.
Contributions:  To the family in care of the funeral home.