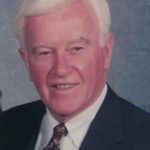 John F. Herron, 73 of Bethlehem died peacefully on Tuesday, August 07, 2007 at home surrounded by his family. Husband of Katherine D. (Poulias) Herron, they were married 47 years on July 24th. Born on December 3, 1933 in Coaldale, Pennsylvania, son of the late John J. and Grace T. (Shovelin) Herron. He grew up in a mining town and at a young age became interested in the funeral business working with his Uncle, Donald Griffiths. John graduated from American Academy of McAllister Institute of Funeral service in New York and the National Foundation of Funeral Service, School of Funeral Service Management in Evanston, Illinois.
He served in the US Navy during the Korean War serving in the 6th Fleet in the Mediterranean. In 1961 he went to New York to work for Thomas M. Quinn and Sons Funeral Home, which had 10 funeral homes located in Queens, Jamaica and Long Island. Later he would become Vice President and General Manager of the firm.
In 1979 John and his family moved back to Pennsylvania to fulfill a life long dream of owning his own funeral home, the John F. Herron Funeral Home in Bethlehem. His son Demetrios and daughter Paula would later join him as Licensed Funeral Directors in 1986. In 1998 they expanded by purchasing another funeral home, the Sell-Herron Funeral Home in Allentown.
John has been active in the community as a member of St. Nicholas Greek Orthodox Church; Kiwanis; original board member of Dream Come True; Kids Peace; President of the Eastern PA Funeral Directors Association in 1988; Past Commander of the Coaldale American Legion in 1955-1956; Member of the Order of AHEPA for 26 years serving as President of Order of AHEPA Homer Chapter #65-Bethlehem, District Governor of Power District #4 from 1990-1992, National Supreme Governor 1992-1993, and was honored as the AHEPAN of the Year in 2002-2003.
Survivors: Wife Katherine. Son Demetrios J. Herron and his wife Sharon A. of Hanover Twp. Daughters Kathy A. Herron-Buttillo and husband Richard M. of Hanover Twp.; Paula C. Herron and husband Rev. Paul D. Braden of Bethlehem Twp.; and Grace T. Herron of Bethlehem. His pride and joy were his seven grandsons: Demetrios Eugene Herron, Connor John Herron, Richard John Buttillo, Zackary Anthony Herron, Nicholas Anthony Buttillo, John Francis Herron Buttillo and Drew Francis Herron. Sister Nan Cannon of Allentown, Four Nieces and Sister-In-Law Verna I. Herron of Blandon, extended family and friends. Predeceased by a brother Frank D. Herron and a sister Grace Marie Brimmer.
Services: Saturday at 11 AM in St. Nicholas Greek Orthodox Church 1607 West Union Blvd. Bethlehem with viewing one hour prior to the service. Viewing Friday from 2 to 4 PM with Trisagion at 3:30 PM and 6 to 8 PM with Order of AHEPA Memorial Service conducted by Homer Chapter #65 at 8 PM in his home at the John F. Herron Funeral Home 458 Center At Market Streets Bethlehem. Burial in NiskyHill Cemetery in Bethlehem.
Contributions: To the Church, John F. and Katherine D. Herron AHEPA District Scholarship Fund or Dream Come True all in care of the Funeral Home.