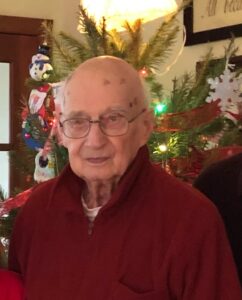 John S. Polak, 96, passed away peacefully at home on Wednesday, November 15th.  He was predeceased by his wife Kathleen.  They were married 62 years.
Born in Nizny Hrabovec, Slovakia, on July 7th, 1927, he came to the US at the age of two and was raised in Coaldale PA by his parents the late Stephen Polak and Anna (Vargovich) Polak.  He graduated from Coaldale High School in 1945 and joined the Navy, serving aboard the USS Boxer, USS Princeton and several other ships during and after World War II.  He has been a member of the Coaldale American Legion for 76 years.  He was a member of St. Cyril and Methodius Church in Coaldale and later a member of St. Joseph of the Panther Valley in Summit Hill, where he lived for the past 64 years.
John worked a variety of jobs including Riebe Construction, a company that did landscaping work around the Lansford pool area, the PA Turnpike, Conway Rail Yard outside of Pittsburg and Bundy Tubing. Later in life he returned to school earning a certificate in tool design.  He then joined Stanley Tools in Allentown where he worked for over 25 years, retiring in 1992.
Growing up during the depression, John was raised with a strong work ethic that nurtured his "Jack of all Trades" lifestyle.  When his many nieces and nephews were young, they were known to say "Uncle Johnny will fix it" whenever anything was broken.  From carpentry, electrical, plumbing or mechanical, there was never a job John was afraid to tackle.  For his retirement project, he restored his Pontiac convertible, which he had purchased new in 1957.
Survivors:  Sons John S. Polak of Sellersville and Daniel S. Polak of Summit Hill, daughter Nancy L. Sanchez wife of William A. of Naples, FL, grandsons Logan J. and Justin D. Polak, sisters-in-law Jean Polak and Anne Marie Riepensell both of Allentown.  Also survived by many nieces and nephews.
He was predeceased by two brothers, Joe and Steve, and two sisters, Mary Pavlovich and Anna Skyrca.
Viewing: Monday, November 20th from 6PM to 8PM and on Tuesday, November 21 from 9:30AM to 10:30 AM all in the Parambo Funeral Home, 54 West Fell Street Summit Hill, PA 18250. www.parambofh.com
Mass of Christian Burial:  Tuesday, November 21st at 11AM at St. Joseph Parish of the Panther Valley 426 Ludlow Street Summit Hill. Burial with military honors will follow in St. John The Baptist Byzantine Catholic Cemetery 356 East White Street in Summit Hill.   Funeral arrangements by the Herron Funeral Home Bethlehem, www.Herronfuneralhomes.com
Contributions: In his memory to Autism Speaks 1060 State Road, Second Floor Princeton, NJ 08540 or www.autismspeaks.org in support of his grandson, Justin, and to help all children with autism.