JoMarie Josephine M. Kranyecz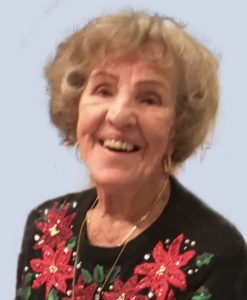 JoMarie (Josephine) M. Kranyecz, 91 of Bethlehem Twp., passed away on January 21, 2022.  JoMarie was the wife of Staff Sergeant Joseph Kranyecz for 55 years until his passing on December 31, 2004.
JoMarie was born in Bethlehem on March 15, 1930 one of 14 children born to the late Frank and Mary (Sulics) Phillip.
JoMarie was a layout operator at AT&T retiring in 1987.
She was a faithful member of Sacred Heart of Jesus Catholic Church in Bethlehem for many years.
JoMarie will be remembered by her children as a wonderful Mother who  loved them unconditionally and for this they are  grateful to have had such a  wonderful Mother.
Survivors:  Son Philip Peter Kranyecz husband of Susan Hampton of Auberry, CA, daughters Dolly Kranyecz wife of the late Charles H. Meyers, Susan Hahneman wife of Frederick of Bethlehem and Christine (Tina) Kranyecz wife of Brian Werkheiser of Bath; brother Victor Phillip of MD  and a sister Margaret Dias of Bethlehem; grandson Richard Allen and great-granddaughter Leah Marie. Predeceased by a granddaughter Tara Lynn, 11 brothers and sisters.
Viewing & Mass:  There will be a viewing on Thursday January  27, 2022 from 10AM to10:45AM followed by the Funeral Mass at 11AM  in Sacred Heart  Church 1817  1st Street Bethlehem, PA  18020.   Burial  to follow in Holy Saviour Cemetery in Bethlehem.  Funeral arrangements are by the John F. Herron Funeral Home in Bethlehem, www.Herronfuneralhomes.com
Contributions: To a charity of your choice.