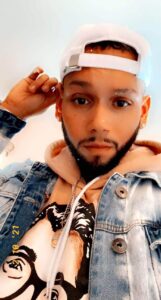 Jonathan M. Rivas-Ayala 29 of Bethlehem. Passed away on November 12, 2022 surrounded by his family at Hospital of the University of Pennsylvania  in Philadelphia.
Jonathan was born in Guayama, Puerto Rico on August 26, 1993. Son of the Miguel Rivas-Rodriguez and Flor Ayala.
Survivors:  His Parents, son Joniel I. Rivas, Brothers Miguel A. Rivas-Ayala, Jose M. Rivas-Ayala and spouse Christina; Sisters Amanda M. Rivas-Ayala, Katiria M. Rivas-Ayala and spouse Omayra.
Viewing and Service:  Friday November 18, 2022, viewing 5:00PM to 7:00PM followed by the Funeral Service at 7:00PM in the Herron Funeral Home 458 Center Street Bethlehem, PA 18018. www.Herronfuneralhomes.com
Contributions: To the Family in care of The Funeral Home.