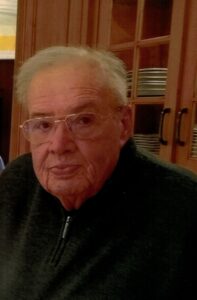 Joseph Michael Carl, 88, of Bethlehem, passed away peacefully November 25 after a long illness.
Joe was born in 1934 in Carbondale Pennsylvania to Orval and Mary Carl. He graduated Scranton Central High School. He then entered into the United States Army where he proudly served until 1959. Joe then worked as a buyer for A&P and Supermarket Services. Using his buyer background, Joe eventually started his own business selling flowers, movies, and other profitable items at the local flea markets alongside his wife. He enjoyed this until his retirement about 12 years ago.
Joe enjoyed online poker, golfing, fishing, and hunting at the Rock Ridge Hunting club where he was known as "Boom Boom Carl". Upon retiring, Joe spent his summers at the family lake house in Lake Winola where he was always ready to discuss politics, get you the best deal on a car or appliance, give the day's weather report complete with radar and humidity. He was known to play Texas Hold 'em until the wee hours of the morning, all while keeping tabs on who was at the fire until 3:00 am. Under his tough exterior was a man who would help anyone in a pinch, give fatherly advice, and always lend a hand. His illness slowed him, but never stopped him, and he fought hard until the end.
Joe leaves behind his loving wife of 61 years, Ann Terese, daughter, Erin Neffke and partner Victor Amoruso. A son, Joseph Carl and fiancée, Heather. Four beloved grandchildren Jonathan, Caitlin, Ryan and Joseph.
Joe is also survived by his sister, Anne Grindle and husband Francis, and numerous nieces and nephews. Joseph was predeceased by his parents, his brother William, and his sister Mary.
Joe and his family will be forever grateful for the help and kindness of their special friends, Russ and Eileen Truscott and Brian and Natalie Heller.
Visitation and Funeral Mass: Saturday December 3, 2022, visitation 9:45AM to 10:45AM followed by the Funeral Mass at 11 AM all at Sacred Heart of Jesus Parish  1817 First Street Bethlehem, PA 18020.  Private burial in the Cemetery of Our Mother of Sorrow Finch Hill, Carbondale, PA.  Funeral arrangements by the Herron Funeral Home Bethlehem, PA.  www.Herronfuneralhomes.com
Contributions:  Wounded Warrior Project, P.O. Box 758516, Topeka, Kansas 66675-8516.  www.woundedwarriorproject.org