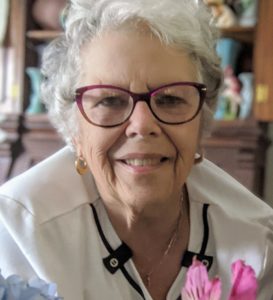 Kasha Hagemeyer, 76, born Catherine Anna Meckes, passed away peacefully on November 6th after stoically living with Parkinson's for more than two decades.  Her husband Joe was by her side, where he has faithfully abided for 53 years of marriage.  She still lived in the same home in Bethlehem where they raised their family, which included daughter Jennifer (Lake Orion, MI) and son Peter (Point Pleasant Beach, NJ).  She is survived by Jennifer (Steve) Benninger, Peter (Grace) Hagemeyer, along with six grandchildren:  Luke (Katie), Tim (Emily), and Andrew Benninger; Johann, Paul, and Heidi Hagemeyer.  Luke and Katie's infant daughter Eleanor was her only great-grandchild.
Kasha was well known for her caring and creative nature.  After growing up in Emmaus and spending time as a majorette in high school, she graduated from Kutztown College and taught art, served in numerous volunteer and leadership capacities at church, was a substitute teacher in the Bethlehem Area School District, and also spent many years as a talented floral designer near her childhood home in Emmaus.  Her love of all things beautiful—flowers, marbles, music, fabric, pottery, jewelry, art, nature—was evident in her life and home and to all who had the opportunity to know and work with her.  Her extraordinary affinity for the Jersey Shore (specifically Beach Haven, LBI) was passed to her children and grandchildren since all summers revolved around scheduling a family vacation there.  Especially missed will be her amazing memory of past events—great and small—and her special love of her growing family.
A private celebration of her life will be held on November 21st at Herron Funeral Home in Bethlehem.  In lieu of flowers, the family is asking that memorial donations be made to a charity of choice; the family has ensured that a garden of flowers, including some of her favorites, will be provided at the funeral home to honor this special woman.