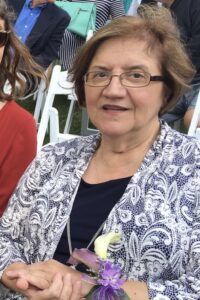 Kreoussa "Roula" Kalantzis, 71, died July 2 at home surrounded by her family following a prolonged illness.
Roula was born in Thessaloniki, Greece, one of two children. Her sister, Eleni, who was 11 months younger, died in childhood. After graduating high school in Greece, Roula studied in Germany before immigrating to the United States to marry her husband, Lazaros Kalantzis.
The two lived in Brooklyn, NY, eventually settling in a home in the waterfront community of Sheepshead Bay. Tragically, Lazaros died in 1983 at the age of 39. Determined to raise her three children in their home in Brooklyn, Roula took a job in school nutrition services, eventually spending nearly 25 years at the New York City public school system before retiring as a supervising cook in 2015. In between she attended culinary school, studying nights after work. But she was unwilling to sacrifice her time with her children to faithfully undertake the schedule of a professional chef.
Roula was ever the New Yorker. She enjoyed white slices and sesame bagels for dinner, suffered long train rides connecting to the 7 toward Shea Stadium, complained when the city took down too many trees from the block, or were too slow to remove the underbrush from the MTA property behind her home. Neighbors were often the beneficiaries of her culinary talent. She loved cooking but was a master baker. While it was a complicated mix of good times and bad, at its very best, life with Roula was punctuated by the smell of bread dough rising beneath a stack of blankets, or oven-warm melomakarona awaiting their crushed walnut topping.
One of her proudest moments, Roula said, was September 30, 1986–the day she was naturalized as a U.S. citizen. She often instructed her sons to stand for the National Anthem before televised Rangers games, and faithfully put out the flag every Fourth of July.
Despite believing that New York is the greatest city in the world, she spent the final years of her life outside Allentown, PA, at her daughter's home. She enjoyed the slower pace, and larger yard for the grandchildren.
She loved animals and was a faithful supporter of animal nonprofits throughout her life. She was also a skilled crotchetier–her home teeming with blankets, mostly for the grandchildren.
She was a devout member of the Greek Orthodox Church, joining the communities at Three Hierarchs and St. Nicholas in Brooklyn, and later St. Nicholas in Bethlehem.
Survivors:  She is survived by three children, Dr. Stella Kalantzis (Trevor Brooks), Athanasios (Alison), and Dimitrios (Nicole), and four grandchildren, Nicholas Brooks, Alexander Brooks, Lazarus Kalantzis and Fig Eleni Kalantzis. In addition to her sister and husband, Roula is preceded in death by her father, Dimitrios, and her mother, Venetia.
Service:  Private services are scheduled for July 7. She will be interred at Holy Protection Monastery in White Haven, PA.  Funeral arrangements by the Herron Funeral Home in Bethlehem, PA. www.Herronfuneralhomes.com
Contributions: In lieu of flowers, friends and family can make donations to the Pancreatic Cancer Action Network, www.pancan.org/.