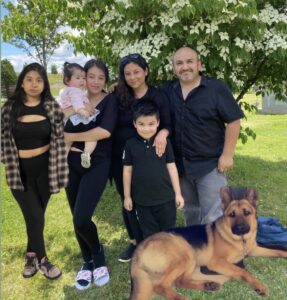 Leonardo was born in Azogues, Ecuador on March 18, 1976 son of Gricelda Rojas and the late Segundo Echeverria.
He was a truck driver for JB Hunt Trucking Company.
He was a member of St. Paul Catholic Church in Allentown.
Survivors: Wife Sandra, son Gerald Echeverria, daughters Jennifer Echeverria, Rebeca Echeverria and Camila Echeverria; brothers Geovanny Echeverria husband of Meisy and Rolando Echeverria husband of Nelly, sisters Yolanda Echeverria wife of Wilson, Diana Echeverria wife of Romulo, Gloria Echeverria wife of Francisco and Tannya Echeverria.  Also survived by his faithful German Shepherd dog Ace.
Viewing: Saturday September 24th from 6PM to 8PM, Sunday September 25th from 5PM to 7PM and Monday September 26th from 7:45AM to 8:45AM    all in the Sell-Herron Funeral Home 1145 Lehigh Street Allentown, PA  18103.
Funeral Mass:  Monday September 26th at 9:30AM in St. Paul Catholic Church 920 South Second Street Allentown, PA  18102.  Burial in Resurrection Cemetery in Wescosville, PA.  www.Herronfuneralhomes.com