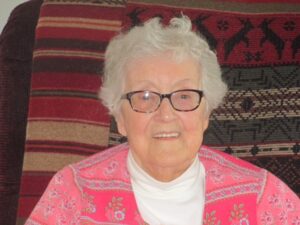 Lorraine J. Curtis, 95, passed away peacefully on June 24 at her Nazareth home surrounded by family and friends.
A church organist in her earlier years, bank teller, office clerk, and master seamstress who made many dresses and costumes.  Late in life Lorraine mastered playing the flute and performed for small groups.
Born May 14, 1927, in Phillipsburg NJ. She was the daughter of Ida and Joseph.
Survivors include sons Craig and Thomas Bartholomew and five grandchildren.  Lorraine was preceded in death by beloved son Paul in 1969.
She will be greatly missed by siblings Carol Drago husband, Mike; Anne Prendergast husband, M. Noretsky; Kevin Prendergast wife, Kathy; nieces, nephews and dear friends.
The family extends gratitude to the healthcare workers, visiting nurses, aides and hospice for making it possible for Lorraine to die at home.
Services will be held at 11 a.m. Saturday July 30 at St. Brigid's Episcopal Church, 310 Madison St., Nazareth followed by a reception at the church.
The family requests memorials to Saint Brigid's church.