Louise "Petey" Dixon DuBois Perkins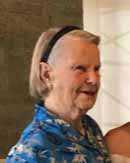 Louise "Petey" Dixon DuBois Perkins of Bethlehem, PA and Tyringham, MA died peacefully on Monday April 23rd, 2018 in Bethlehem, PA after a very short illness.
She was born September 22, 1925 in New York City, the daughter of Arthur Mason DuBois and Marie Louise Dixon DuBois. She attended the Lawrence School in Hewlett, Long Island and graduated from Garrison Forest School in 1942 and from Barnard College in 1946 where she was President of her Senior Class.
She married Edward "Ned" Clifford Perkins in Lenox, MA in 1947. They lived first in New York City where she taught at Brearley and Spence Schools while Ned attended Columbia Law School and first practiced law with Cravath, Swaine and Moore, and then moved to Bethlehem in 1955 where Ned became Assistant General Counsel for the Bethlehem Steel Corporation. They spent every summer in their house "Glencote" in Tyringham, MA, where Petey was a long time member of the Hop Brook Club.
Petey was a communicant of the Cathedral Church of the Nativity since 1955. She was a founding member of the Society for the Arts at the Allentown Art Museum, President of the Bethlehem Junior League, Trustee of Moravian Preparatory School as it merged into Moravian Academy, and President of Talbot Hall, the Episcopal Diocese's home for teenage girls. Since 1980 she served as an Associate Chaplain with the Pastoral Care Department of St. Luke's Hospital in Bethlehem.
She loved her husband Ned and together they raised five children, ten grandchildren, and two great-grandchildren. Affectionately known by her family as "Boss Lady", she took a proprietary interest in the happiness and well being not only of her family and her children and their offspring and significant others, but also of the children of her many friends, and indeed of everybody she met, whether on the street or in a shop or through her years of listening to those in need at the hospital.
She was predeceased by her husband Ned in 2002, and daughter-in law Eve Lehman Perkins in 2009. She leaves a brother Dr. John Jay DuBois of Lenox, MA, her children Louie Hoblitzell (and her husband Alan) of Vero Beach FL, Ned Perkins (and his wife Cathy) of Bennington VT, Jamie Perkins of Stamford CT, David Perkins of Short Beach, CT, and Kate Perkins of Reading, PA, and her grandchildren Max, Kate, Emily, Matthew, Luc, Ben, Sarah, Eliza, Madeline and Sam, and her great-grand-children Logan and Michaela.
She was thrilled to be present at the wedding of her granddaughter Kate Hoblitzell to Jackson Yang in New York City a week and a day before her death, where in a strong voice she blessed the couple with a blessing from the Book of Common Prayer. She gave all her heart for ninety-two years – she loved all who were with her, and in the end she gave it all.
Service:  A celebratory service of Petey's life will be held from the Cathedral Church of the Nativity 321 Wyandotte Street Bethlehem on May 4, 2018 2 pm and in Tyringham, Union Church, July 7 at 2pm.  Funeral arrangements by the John F. Herron Funeral Home, Bethlehem, PA www.herronfuneralhomes.com
Contributions:  In lieu of flowers to the Cathedral church of the Nativity or to St. Luke's Pastoral Care Department c/o Development Office 801 Ostrum Street Bethlehem, PA  18018