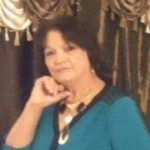 Luz N. Mercado, 66 of Bethlehem died on November 23, 2019 at home.
Luz was born in Yauco, Puerto Rico on May 28, 1953, daughter of the late Domingo Mercado and Carmen Galletti.
Survivors: Sons Jose Montes and Richard Montes and his wife Veronica; many brothers and sisters; four grandchildren and a granddaughter on the way.
Service: Viewing on Wednesday, November 27th from 1-3PM at the John F. Herron Funeral Home, 458 Center Street, Bethlehem, PA 18018.
Contributions: To the family.