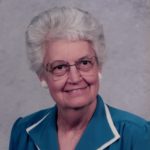 Marceline E. Siffel went home to be with the Lord on February 7, 2017. She was 91 years old. Born in Bethlehem, PA, she was pre-deceased in marriage to John Hillenbrand then Stephen Siffel.
She was a homemaker for many years and worked at Western Electric from where she retired. She was an inspiration to her children as she both worked and raised them as a single mom much of our lives always encouraging us to do our best. Her love of gardening and her grandchildren kept her active. She also enjoyed traveling stateside and overseas with her friends and children.
Marcy was a member of Trinity Wesleyan Church in Allentown, PA where she served many years after giving her life to Christ. She volunteered in various ways always seeking to help others.
Survivors: Sons, Timothy J. Hillenbrand and wife Kathleen of Allentown, PA, Robert L. Hillenbrand and wife Fiona of Pendleton, OR; daughter Melanie A. Alfonso of Goshen, NY; son Brian P. Siffel and wife Stacy of Arnold, MD. Grandchildren Brendan, Bridget, Audrey, Jill, Olivia, Alanna, Jonathan, Kate, Jacob, Sarah and Griffin; great grandchildren Riley, Madeline, Brady, Hugo and Nora.
Services: Monday, February 13, 2017 at Trinity Wesleyan Church, 6735 Cetronia Rd., Allentown, PA 18106. Calling hour from 10-11AM. Service to follow at 11AM in the church. Funeral arrangements by Sell-Herron Funeral Home in Allentown.
Contributions: In lieu of flowers, donations to Trinity Wesleyan Church.