Maria N. DeJesus Domingues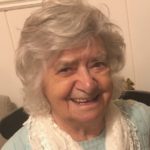 Maria N. DeJesus Domingues, 97 of Coopersburg died on Friday February 21, 2020 surrounded by her family at St. Luke's Hospital-Anderson Easton. Maria was the widow of Claudino A. Domingues.
Maria was born in Cováo Lobo Vagos, Portugal on September 20, 1922 daughter of the late Manuel and Maria Rosa (DeJesus) Goncalves, Jr.
Survivors: Daughters Maria Cartaxo wife of Daniel and Deolinda Borchick wife of Paul, sons Manuel Domingues husband of Benilde, John Domingues husband of Graciete and Mario Domingues husband of Brenda; sister Guelhermina, brothers Firmino and Samuel; 15 grandchildren, 21 great-grandchildren and 1 great-great-grandson.
Service: There will be a viewing on Friday February 28, 2020 from 7PM to 8PM with a Service from 8PM to 9PM in the John F. Herron Funeral Home 458 Center At Market Street Bethlehem. Burial will be in Fonte de Angeao Cemetery in Vagos, Portugal. www.Herronfuneralhomes.com
Contributions: In her memory to the Alzheimer's Association.