Martha Ann "Mattie" (Paslawsky) Hoben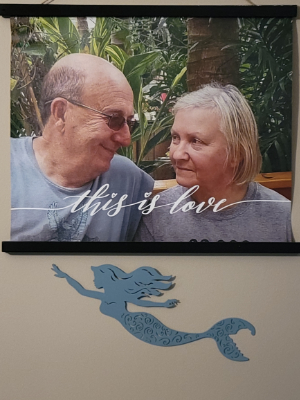 God called home his beautiful dedicated servant  Martha Ann "Mattie" (Paslawsky)  Hoben, on May 27, 2021, surrounded by her family.   Martha was born July 1, 1953 in Coaldale to William Paslawsky and Elizabeth Sweeney both deceased.  Martha was a proud member of the 1971 Panther Valley graduation class where she was a member of the Marching Band, gymnastics team, Student Council, prom committee, Prom Court, chorus and several other activities. She served on the class reunion committee until her passing. She was also active in the Coaldale Victory Band. She later attended Northampton Community College.
Martha surprised the family when she on the QT auditioned for the play "A Christmas Carol" and earned a part.
For years Martha was an organist at St Mary's of the Assumption Catholic Church in Coaldale. Martha served her community in many ways volunteering with CHOSE, Panther Valley Knee High cheer squad and then an active member of the Coaldale Community Ambulance Association for many years.
Martha was always proud to show her Irish heritage going so far as to pick her wedding date on St Patrick's Day 1990 to Lenny Hoben.  She visited the Emerald Isle twice and always said she would love to live there. Martha lived in Bethlehem and then later in Whitehall, active in her community volunteering with Celtic Fest and Musikfest for ten plus years.  She was an active member of St Ann's Choir in Bethlehem until the pandemic.
Martha always supported her daughter's  activities from being a Girl Scout Leader, Holding an officer position with the Liberty High School Grenadier Band and Orchestra Parents Organization for several years. Martha followed and supported her daughter's volleyball play all the way to Colorado, and involved in dance and gymnastic events.
She attended many events honoring our Veterans and standing flag lines for the fallen.  Rode to Washington DC for the Rolling Thunder Demonstration 10 years straight, spent many a Saturday at the VA in Wilkes Barre feeding our hospitalized veterans and escorted many of our fallen home from Dover AFB.
Martha retired after 20 years working at the Walgreens Distribution Center in Bethlehem.
As her children grew Martha spent years in her favorite second home Ocean City, Maryland and riding on the back of a Harley with Lenny visiting many sites.  Together they traveled 40,000 miles plus. Her love of photography will live on thru her many award-winning pictures.  Martha was loved by everyone she touched.
Martha leaves behind her devastated husband Lenny Hoben who she spent 31 loving years as his wife, her trusted side kick Helga "her" dog, two daughters Jennifer Reymer and her husband Danny, Shannon Lea Ferry and her husband Jim, a brother William Paslawsky and sister in-law Ann Louise, a sister Marybeth Zlock and brother in-law Milan. Numerous nieces, nephews and cousins who she so loved and never missed an event special to them.
VIEWING:  Tuesday evening  June, 1, 2021 from 6-8PM  and Wednesday morning  9:15-10:15AM all at the John F. Herron Funeral Home 458 Center  At Market  Streets Bethlehem. Services will be under the direction of her dear friend David Eames of the Labs Funeral Home in Honey Brook.  www.Herronfuneralhomes.com
MASS OF CHRISTIAN BURIAL: Wednesday June 2, 2021 at 11 AM at St. Ann's Catholic Church 450 E Washington Ave. Bethlehem.   Interment will be held on Saturday June 5, 2021 at 11:30 AM at the New Saint Joseph's Roman Catholic Cemetery 250E. White Bear Drive, Bloomingdale, Carbon County, Pennsylvania 18250.
CONTRIBUTIONS:  To an animal shelter of your choice.