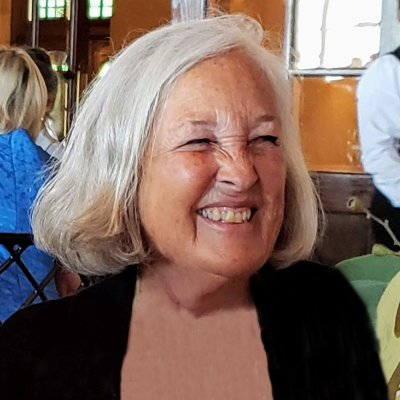 Martha Anne Jurgens, 71, of Bethlehem, PA passed away peacefully and surrounded by her loving family and valentines in her home Saturday, February 13th, 2021, after a long battle with glioblastoma. Martha was born November 5th. 1949 in Dallas, Texas and grew up in Massepequa, NY. She, her husband and 3 daughters moved to Pennsylvania in 1993 where she worked as the world's best stay at home mom before venturing into the world of retail where she worked for many years at a second-hand store called Nice as New and later at Kohl's in Easton. After retiring from Kohl's (she was never one for sitting still) Martha kept busy by volunteering at St Luke's Hospital as a transporter, at the VNA and at Hospice House.
She was a devoted member of OLPH, where she attended mass every week as well as volunteered with the Heavenly Dusters to clean the church. Her GBM diagnosis was devastating, but she was a rockstar with treatment and stubbornly lived many months after her prognosis to see her second and third daughters marry, her youngest daughter graduate from Nursing School, her eldest daughter fulfill her dream of moving to live at the beach and was just a few months away from meeting her first grandchild. Martha loved birdwatching (especially trying to spot those pesky hummingbirds), warm weather and the beach. She was an amazing cook and baker, had a devilishly funny sense of humor and had the kindest soul that believed in the good in everyone.
She will be terribly missed by her husband, Peter Jurgens; her daughters and their husbands, Kate Jurgens (Teddy Kohn) of Myrtle Beach, SC; Mary Jurgens (Ken Dzike) of Bethlehem, PA and Ellen Jurgens (Chris Guidon) of Bethlehem PA; her brother Thomas Bowman (Patricia) of Vienna, VA; sister Karen Coombe (John) of Guilford, CT; as well as a number of wonderful friends who visited her until the very end. She will be lovingly embraced at the pearly gates by her parents, Gregory and Bernice Bowman, brother-in-law Paul Jurgens and her granddog Tico Marie.
Service: On  Friday February 19, 2021, there will be calling hour from 10Am to 11AM followed by a Mass of Christian Burial at 11AM all at Our Lady of Perpetual Help 3219 Santee Road Bethlehem, PA 18020.  Burial will be in Holy Saviour Cemetery in Bethlehem. Funeral arrangements by the Herron Funeral Home in Bethlehem, www.Herronfuneralhomes.com
Contributions: In lieu of flowers, donations can be made in her name to St Luke's Hospice or the National Brain Tumor Society.