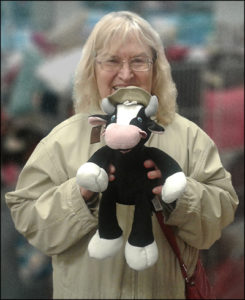 Mary Jean Shatto
1938-2020
Would you believe I found another cow!" 
         Mary Jean Shatto was one very special lady…
beautiful inside and out…
She shared her enthusiasm and unique brand of hilarity everywhere she went. She was constantly on the prowl for unique and sometimes extravagant treasures (and yes, plenty of cuddly toy cows), which she bought and gifted to others in care packages or poofy bags. She hand-delivered or mailed the gifts to her beloved children and grandchildren, needy families in the community, US military personnel abroad, and countless others who she wanted to give some small token of kindness and love.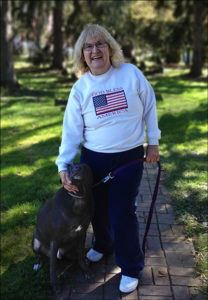 Mary Jean, affectionately known as MJ to postal employees, mailed hundreds of packages via priority mail, yet she never used any of the packaging provided by the postal service. She believed that packages should "look good" when they arrive. So she used plain brown paper to meticulously wrap each package in one of her homemade recycled shipping boxes, and included an elegant handwritten note. The gifts and treats she included were delightful and even the boxes were an adventure. Anything was fair game. Imagine getting a couple dozen of your favorite gourmet cookies and kiffles from a bakery in New Jersey, shipped across the country in a Milk-Bone dog biscuit box. And she wasn't above making sure that the treats were fresh and safe to eat before she wrapped the box and mailed it. If you received some individually wrapped candies from her there were usually a few empty wrappers in there among the candy. Sometimes with a note or email confessing that she had "snitched" a few.
While English was in fact Mary Jean's first language and she actually began her career working at a newspaper, she could slay common words and popular phrases with grace and aplomb. A new acquaintance might need an interpreter to keep up at first. She was typically "percolating", which meant she was doing fine and getting by. Sometimes she was "decombobulated" (aka frazzled). Websites to Mary Jean were called "face pages". She shopped for dog food at "Tractor Trailer" (aka Tractor Supply). When she traveled to Florida to visit her daughter Eve, she mentioned she really enjoyed riding on "1A1" (A1A) and looking at the "condimoniums" (condominiums). While we're on the subject of Florida, have you ever been to "Pepsicola" (aka Pensacola)? Well, according to Mary Jean, her daughter Ann has. And after returning from a long trip, she typically might need a couple days to "decompose" (decompress).
Mary Jean always wanted to be a blessing, and share the joy, comfort, and help she found in her relationship with Jesus. She was passionate, and hoped others would have that same experience. Her bubbly, fun personality always shown through and her beautiful smile made you feel happy. She had so many interests and was wildly curious and enthusiastic about all of them; cows, books, farms, flowers, full moons, her chippies (chipmunks), balloons, old movies, poofy gift bags, cardinals, cookies and celery (yes, celery!). She knew the peak season for all her "fave" fruits and vegetables, and would travel across New Jersey with her son Don to pick her own strawberries, blueberries, and many varieties of apples. Don also maintained an incredible garden full of tomatoes, zucchini, onions, peppers, celery and flowers, which Mary Jean took most of the credit for. She always grew and picked more than she could possibly use and then shared her bountiful harvest with everyone. She was so joyful, just gathering and arranging lilacs or hanging clothes outside to dry (even in winter!). She made everything an adventure, from her trip to Maine to see a real moose to exploring the history of Native American mounds to everyday walks with her canine companions around the neighborhood.
Mary Jean was always active and inquisitive. She took summer classes in high school even though she did not need to. At the start of her senior year she was surprised when the school informed her that she had completed enough credits to graduate and sent her on her way. She began her career at the Milwaukee Journal and continued to write incredible personal stories throughout her life. She put herself through nursing school and alone raised four "fantastic" children. After retiring from a long career as a nurse, she began volunteering at a large charitable thrift shop. She also volunteered and worked tirelessly for her daughter's animal rescue organization Annie's Orphans. She took a personal interest in each dog's story, interviewing applicants, and ensuring that the dog was placed in the perfect and compatible home. Ann says Mary Jean was the best volunteer ever. Whatever she did, she stood out and folks remembered her. She looked, dressed and acted many years younger than her age and was thrilled when people would make a big deal about that. She never owned a car that didn't have a stick shift and at 81 years young drove herself to church just days before she became ill.
Throughout her life she had very little and asked for nothing, yet was enormously gracious and generous, and always thankful. She taught us to run to the needy instead of turning away. Her child-like enthusiasm and passion was ever present and contagious. You didn't dare tell her about something you really liked, unless you wanted to receive frequent packages containing more and more of them. Her hand-written cards, enthusiastic telephone messages (which frequently included singing), and emails brought joy to our hearts and smiles to our faces. Mary Jean was able to do something very special with words. She would regale us with stories of her childhood in Wisconsin and summers in the Upper Peninsula of Michigan visiting her Aunt Minnie, and the very special relationship she had with her mother and her sister Judy. She loved to engage with people and would talk to anyone. She was very proud of her Polish heritage. Her son Kirk, who clearly inherited Mary Jean's spontaneity and sense of fun, designated Too Fat Polka (I don't want her) (You can have her) (She's too fat for me) as her official theme song. Above all else she was Christian through and through. Mary Jean was a unique and precious soul and an incredible blessing to so many. Her gifts were always from the heart. She flew away way too soon. We love her greatly and miss her so much.
Mary Jean Shatto, 81 of Phillipsburg, New Jersey passed away on Monday, March 30, 2020 from complications related to COVID-19. She was born on Christmas Day in Milwaukee, Wisconsin, daughter of the late Anthony Mullen and Frances (Kosmider) Mullen. Her given name at birth was Mary Josephine Mullen, but she decided that Jeannie was more fun so she unofficially changed her name to Jeannie. Eventually she settled on Mary Jean, and dyed her hair blonde because "blondes have more fun". She left behind a loving family and friends including daughter Eve Shatto Walton, daughter Ann Frances Shatto, son Donald Eugene Shatto II, son Kirk Anthony Shatto, son-in-law David Walton, daughter-in-law Anne Shatto, two grandchildren Harrison and Grace Shatto, cousins Bernice Delvecchio and Pat Grzesiak, dear friends Shirl Gross and Carolyn Szela, and her beloved pooches Hannah and Coal. Aside from her parents, she was preceded in death by her sister Judy Mullen and aunts Ann Kosmider and Minnie Mullen.
As Mary Jean would say, "Onward we go. Great love, blessings and hugs!"
In lieu of flowers, please send donations to Annie's Orphans at the following "face page," https://anniesorphans.com/donations … Thank you.