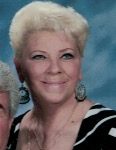 Marybelle Marie Rivera 73 of Bethlehem died on May 10, 2017 at home surrounded by her family. She was the wife of Peter Rivera, they would have been married 51 years on October 1st.
Marybelle was born in Fountain Hill daughter of the late Edward and Marybelle (Reynolds) Rowe.
Marybelle graduated from Allentown Cosmetology School.
She was a micro lab technician at Lucent Technologies for many years before retiring.
Survivors: Her husband Peter, their children Michael, Danielle, companion of Keith and Peter husband of Elisandra; brother Edward husband of Kathy, stepbrother William Bender husband of Pam; seven grandchildren Elexcia Santiago wife of John, Justin, Rachel, Janelle, Olivia, Elijah, Enrique; three great grandchildren Annabelle, Joshua and Gabrielle. Predeceased by a brother Richard.
Service: Graveside Service on Monday May 15, 2017 at 12:30PM in the Nativity Section of Bethlehem Memorial Park. Funeral arrangements are by the John F. Herron Funeral Home in Bethlehem.
Contributions: In lieu of flowers contributions can be made to her husband Peter Rivera for the care of their son Michael Rivera.