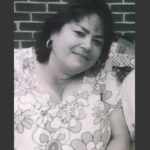 Mirna M. Garcia, 53, of Bethlehem, died on July 3, 2019 at home surrounded by her family. She was the wife of Abimael Dominguez.
Mirna was born in Isabela, Puerto Rico on December 9, 1965 and was the daughter of the late Jorge Luis Nieves and Carmen Medina.
She was a member of Holy Infancy Church in Bethlehem.
Survivors: Husband Abimael; sons Abimael Dominguez, Jr. and Anthony Dominguez; daughters Blanca Iris Narvaez and Michelle Narvaez; brothers Roger, Miguel, Luis and Jose Mercado and Nestor Nieves; sisters Maria Gonzalez and Miriam Nieves; eight grandchildren. Predeceased by a daughter Lismary Dominguez on December 30, 2003.
Service: Viewing on Friday July 12, 2019 from 7pm to 9PM in the John F. Herron Funeral Home 458 Center At Market Street Bethlehem. Mass of Christian Burial on Saturday July 13, 2019 at 10 AM in Holy Infancy Catholic Church in Bethlehem. Burial in Holy Saviour Cemetery in Bethlehem. www.Herronfuneralhomes.com
Contributions: To the family, c/o the Funeral Home.