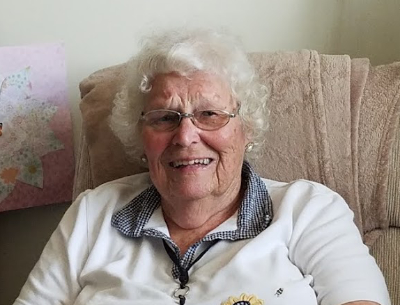 Nancy A. Ferrara, 88 of Allentown passed away on October 21, 2021 in Whitehall Manor. She was the loving wife of the late Albert A. Ferrara for 55 years until his passing on September 6, 2009.
Born in Allentown on November 29, 1932 she was the daughter of the late Willard and Grace (Melber) Klingman.
Nancy was a Registered Nurse who graduated from Allentown Hospital School of Nursing. She later worked at Allentown Sacred Heart and Lehigh Valley Hospitals in various departments over many years until she retired.
Nancy was an active member of St. Thomas More Catholic Church in Allentown. She loved helping her faith community and made prayer shawls for those in need.
Survivors: Three Sons Christopher A. Ferrara, husband of Rita, Angelus P. Ferrara, and David A. Ferrara, husband of Beth; two grandchildren Kenneth and Sophia who she dearly loved; brother William Klingman.
Funeral Mass: Mass Saturday, May 14, 2022 at 5:00 PM at St. Thomas More Catholic Church, 1040 Flexer Avenue, Allentown PA 18103.
Contributions: Family Pillars Hospice 3910 Adler Place Bethlehem, PA 18017