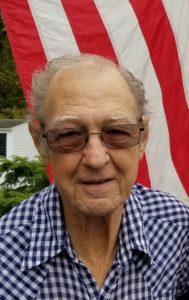 Paul Nelson McGee, 81 of Lansdale, formerly of Elkins, WV, passed away peacefully at Lansdale Abington Hospital after an extended illness on April 7, 2021. He was the husband of Alice Marie (Stankus) McGee of Elkins, WV, they were married 57 years on January 10th.
Paul was born in Huttonsville, WV on June 3, 1939, son of the late Guss and Gladys (Simmons) McGee.
He served in the US Army for 3 years, stationed in Ethiopia, Africa and served in the HQ US Army Middle East Signal Agency as a SP4 Machinist in the Ordnance Corp where he was cited for demonstrating exemplary devotion to duty, professional competence, and high standards of efficiency.
Before moving to Pennsylvania, Paul was a machinist at Kelly Foundry in Elkins. He was also a volunteer firefighter and search and rescue team member for the Elkins Volunteer Fire Department.
In 1968 Paul moved to Lansdale, Pennsylvania to pursue his career. He retired from Siemens USA in North Wales, PA where he was employed as a Maintenance Specialist.
After retiring, Paul worked part time as a machinery repairman and teaching assistant in the Adult Education Program at North Montco Technical Career Center until 2013.
Paul loved spending time with his family and friends, going to the diner every morning for coffee, vacationing in West Virginia, hunting and fishing. He was a talented craftsman who enjoyed woodworking, gunsmithing, instrument repair, and creating art. He could fix anything, build anything, and was the first to lend help to anyone at any time. He could always be found on his front porch in the Summer enjoying the outdoors.
Growing up in a family of musicians, music was special to Paul. He played a variety of instruments, with fiddle, mandolin, and guitar being his favorites.
Survivors: His wife Alice, son Eric McGee husband of Michele (Herbine) of Elkins, WV and daughter Melissa (McGee) Trbuza wife of Edward M. Trbuza of Bethlehem, PA; five grandchildren Theresa (McGee) Cox, Megan (McGee) Giangiulio, Erica McGee, Kyle Trbuza and Vanessa Trbuza; two great-grandchildren, Thomas Cox, Jr. and Vincent Paul Giangiulio. Brother Gary McGee of Elkins, WV, three sisters Nellie Spicer of Louisville, KY, Ada Jean Simmons of Mason, MI and Ann Lester wife of David of Fairmont, WV. Predeceased by a sister Eva Brenwald and a brother Charles McGee.
Service: A private Memorial Service will be held at a later date. Funeral arrangements are by the Herron Funeral Home in Bethlehem, PA, www.Herronfuneralhomes.com
Contributions: In his memory can be made to: Elkins Volunteer Fire Department, 216 Fourth Street, Elkins, WV 26241 or St. Brendan Catholic Church, 181 St. Brendan Way, Elkins, WV 26241