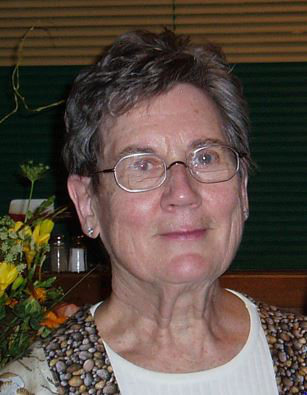 Peggy Whitney Hobbs was born  to Evelyn Whitaker Miller Whitney and Dwight Wright Whitney in Topeka, Kansas on May 16, 1934, the fourth generation to live in Kansas after the brave Whitakers trekked across country in covered wagons (she was told) from New England. She earned her bachelor's degree in education from the University of Kansas and taught in junior high school in Topeka for one year in 1956. She signed up to teach in Turkey with the Congregational Church, the following year, but this plan was altered by a romantic proposal of marriage from Jim Hobbs. The couple married in 1957 and moved to Chicago for Jim's job. Son David was born in 1959 in Oak Park, Illinois, followed by daughter Nano born in Bloomington, Indiana in 1960, where Jim was finishing his Doctorate in Business Administration. Moving back to Kansas in 1962, Jim taught at Kansas State until 1966 when the family moved to Bethlehem for Jim's job at Lehigh University. Peggy earned her masters degree in international relations from Lehigh University in 1972 and taught economics briefly at Moravian Seminary for Girls (now Moravian Academy), and did substitute teaching in Bethlehem and Hellertown.
In 1976, the family lived in Christ Church, New Zealand. During the nine-month stay in New Zealand, Peggy learned to spin and weave and became a fiber artist upon returning to Bethlehem teaching weaving as an art form at Cedar Crest Women's Center and De Sales University.  Peggy inherited her love of textile art from her mother, a quilter. Following her passion, Peggy studied fiber arts in Finland, Philadelphia, New York, Peters Valley, NJ, and at Haystack Mountain, ME, and taught fiber art to many in the Lehigh Valley including students at the Lehigh County Association for the Blind and Visually Impaired. She was one of the founding members of the Luckenbach Mill Gallery for Contemporary Craft of Historic Bethlehem, Inc., which opened in 1980, and was chairperson of the advisory committee. She exhibited her own work in various shows including several with the New York Textile Study Group. Her art works have been described as symbolic wearables and unwearables. She used leather, linen and canvas to collage traditional shapes in hyperkinetic, often humorous series. Her private works included quilts for AIDS patients in memory of her son David who died from the disease in 1995.
She curated exhibits for Lehigh University at Zoellner Arts Center, Kemerer Museum and Historic Bethlehem and wrote articles for national periodicals Shuttle, Spindle & Dyepot, FiberARTS, and the Surface Design Journal. Peggy was a very active member of the Kirkland Village Art and Decorating Committee and she curated many of the Kirkland art shows and exhibited her work in various textiles throughout Kirkland where she lived for almost a decade.
For more than 20 years, Peggy steadfastly supported the arts in the Lehigh Valley receiving an award from the Bethlehem Fine Arts Commission in 2004. She is survived by two sisters, Jane Ford and Betty Alderson, many nieces and nephews and her daughter Nano. Her husband Jim preceded her in death in 2010.
A celebration of life in music will be scheduled for spring 2022 at Kirkland Village.
In lieu of flowers, please consider a donation in Peggy's memory to: Zoellner Arts Center, Zoellner Arts Center, c/o Mark Wilson, Director, 420 East Packer Avenue, Bethlehem, PA 18015