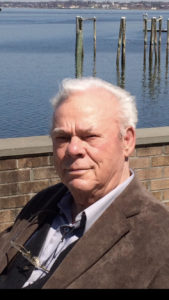 Philip A. Papasimakis, 83 of Woodside, NY, passed away peacefully on November 20, 2019, at home surrounded by loving family.
Survivors:  son Apostolos (Paul) Papasimakis of Whitestone, NY; daughter Vasilia (Lia) Papasimakis Fraccaro and husband Gus Fraccaro of Emmaus, PA; daughter Despina (Debbie) Gibson Henao of Mertztown, PA and children Andrea, Antonio, Matthew, and Persephone; former wife Persephone Papadelias of Mertztown, PA; sister Irini Papasimakis Kochilas of Athens, Greece; as well as many nieces, nephews, and cousins in NY and Greece.
Predeceased: brother Xenophone Papasimakis of Athens, Greece.
Philip was born in Ikaria, Greece on March 3, 1936 in the village of Raches.  Son of the late Apostolos and Vasilia (Kate) Papasimakis.  As a young man, he traveled and experienced much of the world as a Greek Merchant Marine.  He eventually settled in Queens, NY where he married and started his family, later also residing to Lake Grove, Long Island to continue raising his family.
Philip was a very industrious man, and in 1970 he created his NY based commercial business, P.P. Painting Corp., which under the care of his son, Paul, continues to evolve and thrive still today.  Philip found great joy in his many hobbies and passions and was never far from a friendly round of poker or great hand of black jack.  An avid gardener, boatsman, fisherman, hunter, beekeeper, and vintner, he found even greater joy in the sharing of his knowledge and the many fruits of his labor with family and friends.
His greatest love, however, was his love for his family and his home of Ikaria, Greece.  He was very blessed to have been able to create a life that enabled him to spend much of his time back in the village in which he was born and raised.  Through the years he was a participating member of The Pan-Icarian Brotherhood, raising funds to improve and keep his beloved island safe.
Contributions: Memorial contributions may be directed to the foundation of The Pan-Icarian Brotherhood of America.  Pan-Icarian.com to donate to the Ikarian Firefighters Assistance Fund.
Service: Viewing on Tuesday, December 3rd from 5-8PM at the Farenga Funeral Home, 38-08 Ditmars Blvd. Astoria, NY 11105.  Burial will be in Ikaria, Greece. www.herronfuneralhomes.com.