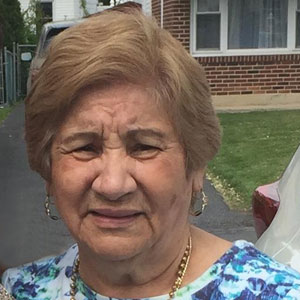 Reina Colon, 76 of Allentown passed away on April 16, 2018 at the Inpatient Hospice Unit at Lehigh Valley Hospital-Allentown. Wife of the late Felipe Colon they were married 54 years until his passing on April 26, 2016.
Reina was born on July 3, 1941 in Coamo, Puerto Rico daughter of the late Julio and Isabel (Flores) Martinez.
Reina was a chip assembler at Lucent Technologies for many years until retiring.
She was a member of Sacred Heart of Jesus RCC in Allentown.
Survivors:  Sister Nidia and her husband Miguel Colon, brothers Miguel Ortiz and Jaime Ortiz; nieces and nephews.
Service:  Mass on Friday at 10AM in Sacred Heart of Jesus RCC in Allentown with a viewing on Thursday from 6PM to 8PM in the Sell-Herron Funeral Home 1145 Lehigh Street Allentown.  Burial in Our Lady of Mount Carmel Cemetery in Allentown.
Contributions:  In lieu of flowers to Sacred Heart of Jesus RCC 336 N.4th Street Allentown, PA  18102.