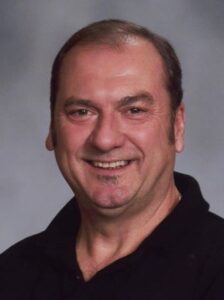 Ricky E. Smith, 55 of Allentown passed away suddenly on December 24, 2022. He was the husband of Lucinda M. (Wagner) Smith for 23 years.
Ricky was born in Allentown on July 31, 1967 to the parents of Robert E. and Dorothy (Pickett) Smith.
He was the Head Custodian for Parkland School District at Kernsville Elementary School. He also worked at Parkland High School as a Custodian and Pool Operator, and at Cetronia Elementary School as a Custodian.
He was the Union Shop Steward for Pennsylvania State Education Association (PSEA).
Ricky also worked for the Allentown Parking Authority, Cotter & Company and LANECO.
He was an avid fan of the Pittsburgh Steelers football team and could accomplish any DIY project with his incredible engineering mind.  His laugh, smile and big personality will be missed immensely.
He will be deeply missed by not only his loved ones but all of his furry friends; Chewbacca, Kody and Gracie; Grand dog's Rizzo and Phoenix. The ball throws, scratches, rubs and kisses.
Survivors: His wife Lucinda, daughter Laci V. Smith and partner Jelisamar Hernandez of Allentown, Step Son Ryan A. Grube of Emmaus, Brothers Robert E. Smith Jr. husband of Theresa Schmoyer of Northampton, Marty Smith of Mertztown and Ronald E. Smith husband of Cathy of Catasauqua, sister Tina L. Hesketh of Australia; sister in law Jennifer and Floyd Lacroix of Lyons, GA, sister in law Melissa Senick and Al Young of Northampton, nieces Olivia Young, Jennifer Smith, Julia and Daphne Senick, nephews Joseph Smith and Ronald Smith; parent's in law Angela and John Wagner of Northampton.
Predeceased by step daughter Brooke H. Grube and his dog Trixie.
Visitation: Friday December 30, 2022 from 2PM to 4PM in the Sell-Herron Funeral Home 1145 Lehigh Street Allentown, PA 18103. www.Herronfuneralhomes.com
Contributions: To an animal charity of your choice.